For Immediate Release
Contact: Daniel Wackershauser, Marketing Specialist
Phone: 608.822.2303
Mail: 1800 Bronson Blvd., Fennimore, WI 53809
Date of Release: May 11, 2022
Riverdale senior completes EMT training through Southwest Tech
Fennimore
-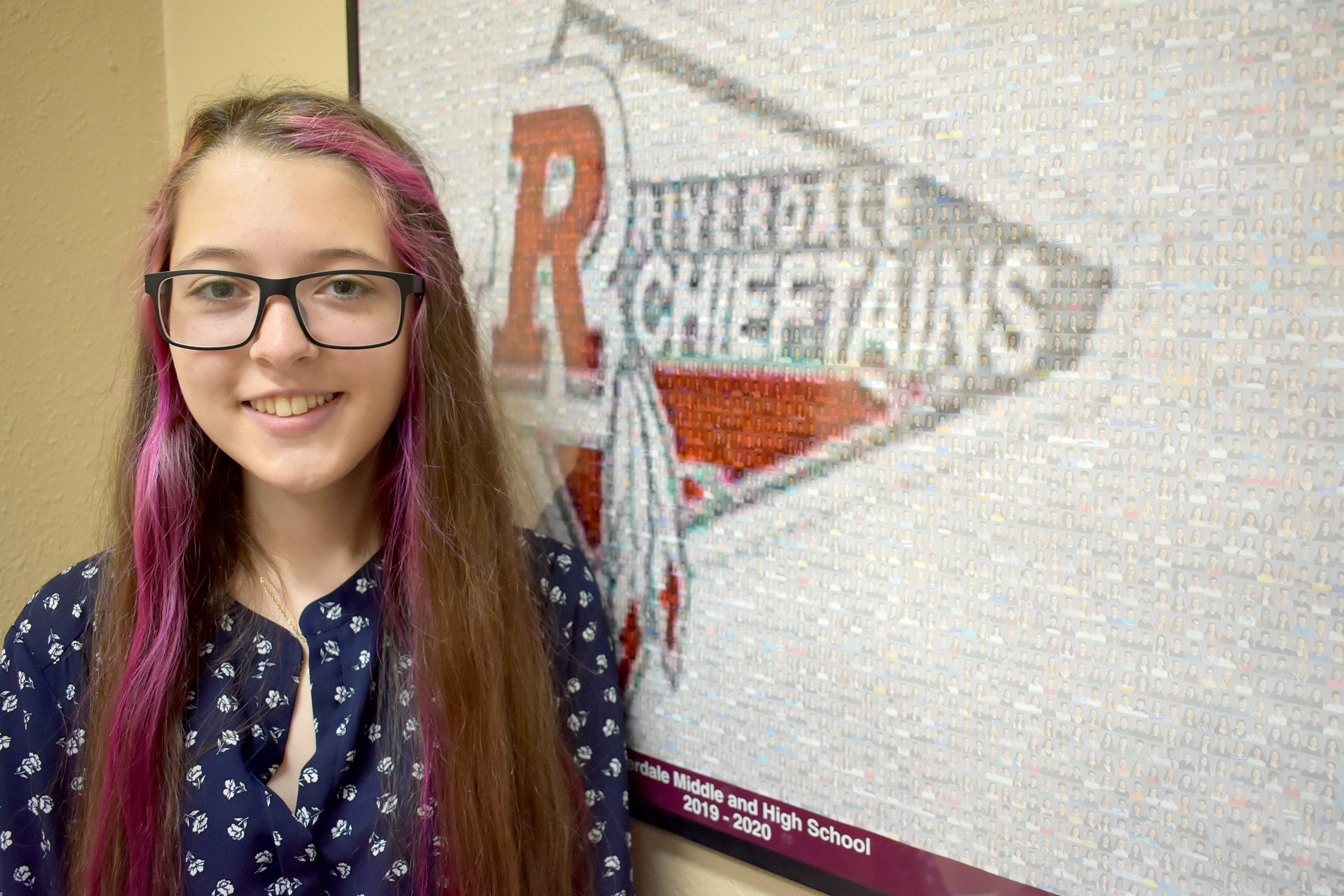 The life of a high school senior is usually filled with academics, extra-curricular activities and hanging out with friends. That, and much more, applies to Abby Niederklopfer, a senior at Riverdale High School in Muscoda, Wisconsin. She recently completed and passed her EMT certification through Southwest Wisconsin Technical College's CollEDGE Up program. "I have always had a passion for the medical field, but it wasn't until this past year that I was sure of what I wanted to do," she said.
Abby was the lone high school student from the three who began, to finish the program this year. "It's a rigorous program," said Ken Bartz, lead EMS instructor at Southwest Tech, noting she had a mindset of success throughout her training. "She is an inspiration to other high school students in our district."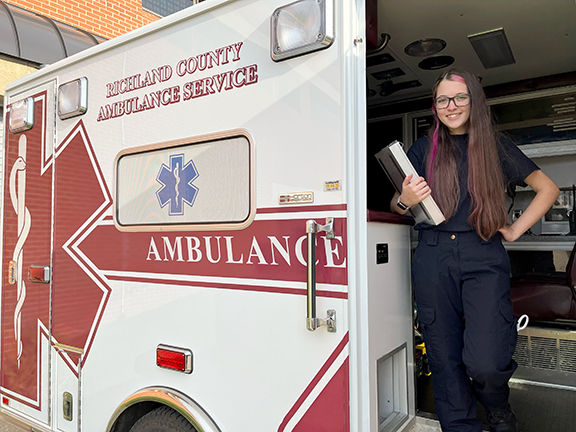 A self-described high achiever, Abby began taking general education and healthcare-specific college courses through Southwest Tech's CollEDGE Up program in the summer following her sophomore year in high school.
Those classes saved her time and money, as she will be pursuing her paramedic career at Western Technical College in La Crosse, Wisconsin, following high school. The classes included medical terminology, intro. to sociology, intro. to psychology, A&P, and CNA certification. She will be graduating high school with 20 college credits. "I shortened my (college) program from 2.5 years to 1.5 years," she said.
The EMT course schedule was quite demanding, combined with her high school requirements. The EMT 1 classes began in Fall 2022 and included a three-hour commitment each morning on Monday, Tuesday and Thursday, either virtually or on-campus for hands-on learning. "Abby is to be commended for this undertaking while still in high school," said Mary Johannesen, career prep and dual enrollment coordinator at Southwest Tech.
"I knew within the first couple weeks this was right. I just had to get over the fears I had," said  Abby. "My classmates and Ken did a great job and helping me through them. I went straight from EMT1 to EMT2 without taking the EMR exam. I passed all of my class tests and my national registry. However, I wasn't 18 yet, so I had to wait a very long month to apply for my license. I am now working as an EMT for two services."
She works part-time for the Avoca EMS and Richland EMS.
High school students can gain college credit, while saving time and money through a variety of options offered through Southwest Tech and their high school. "My advice for students would be that if they have an interest in volunteering or having a career in this field, the CollEDGE Up – EMT/Firefighter pathway is a great way to get a head start while still in high school," said Johannesen. "There is a huge need for EMTs, as well as firefighters, and the early preparation while still in high school will allow someone to complete the related coursework and take the certification tests to be approved to begin volunteering at age 18."
This accomplishment shows that hard work pays off, and high school students don't necessarily have to sacrifice extra-curriculars for academics or vice versa. "I think there is that mindset that you can't do both, but in her case you can do both," said Bartz. "There wasn't so much work that she totally had to alter her life."
While in high school, she was involved in forensics, drama, playing the clarinet in band, choir, and solo ensemble.
After college graduation, Abby plans to move to Sheboygan, Wisconsin or La Crosse, Wisconsin or another metro area and work as a paramedic. "I like being the first on the scene, being the first face that people see when they are in need and being able to see the relief on their face when someone is there to help," she said.
As for any advice for others thinking about following in her path, she says to take advantage of what is offered. "If you are given the opportunity and willing to put in the work, take it, because it's beneficial," she said.
Learn more about Southwest Tech's dual credit options for high school students at www.swtc.edu/hscredit.
The Southwest Tech EMT classes coincide with the campus calendar in August and January. A variety of options are available. Information can be found at www.swtc.edu/publicsafety.
| Southwest Wisconsin Technical College is one of 16 institutions that comprise the Wisconsin Technical College System. Southwest Tech offers more than 60 programs in a wide variety of disciplines. Courses are offered on campus, online and in a blended format. The college provides apprenticeship, certificate, technical diploma, and associate degree programs that respond to district workforce needs and prepare student for family-sustaining jobs and career advancement. |