For Immediate Release
Contact: Brianna Williamson, Recruiter/Alumni & Development Specialist
Phone: 608.822.2483
Mail: 1800 Bronson Blvd., Fennimore, WI 53809
Date of Release: December 3, 2021
Southwest Tech exceeds #GivingTuesday goal
Fennimore
-
The Southwest Wisconsin Technical College Foundation is happy to announce an incredibly successful #GivingTuesday campaign this year. On Tuesday, Nov. 30, the Foundation exceeded its 2021 goal of 50 donors after receiving gifts from 66 donors. In total, $8,252 was raised, which provides enough funding to award at least 16 Charger Dream grants.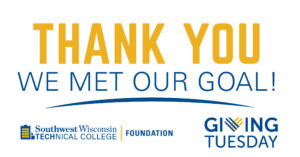 The Charger Dream Fund is a student support fund held by the Southwest Tech Foundation to provide emergency grants up to $500 to students who are faced with an unexpected financial emergency.
During the 2020-21 academic year, the Charger Dream Fund awarded $44,000 to 101 students. Students used their grant to pay for expenses such as internet hot spots, rent, medical bills, or car repairs. The COVID-19 pandemic has also had a significant impact on students' needs for assistance. One student shared, "following an exposure of COVID-19 at school, I was unable to go to work until I was clear of COVID. This has put financial strain on me, as I rely on working five days a week to support myself." Receiving a Charger Dream grant helped this student cover rent for the month.
"We're extremely grateful for the support that we saw through our Giving Tuesday campaign. Helping a student through a financial emergency is impactful and we're grateful our donors understand that need," said Kim Schmelz, Foundation director.
The Southwest Tech Foundation was incorporated in 1980 to identify, solicit, and manage alternative funding sources to support the commitment to excellence of Southwest Wisconsin Technical College. The Foundation is dedicated to providing financial support for Southwest Tech's programs, students and staff. For more information on how to support scholarships or other support funds, contact the Southwest Tech Foundation at 608.822.2379 or visit www.swtc.edu/donate
| Southwest Wisconsin Technical College is one of 16 institutions that comprise the Wisconsin Technical College System. Southwest Tech offers more than 60 programs in a wide variety of disciplines. Courses are offered on campus, online and in a blended format. The college provides apprenticeship, certificate, technical diploma, and associate degree programs that respond to district workforce needs and prepare student for family-sustaining jobs and career advancement. |