For Immediate Release
Contact: Daniel Wackershauser, Marketing Specialist
Phone: 608.822.2303
Mail: 1800 Bronson Blvd., Fennimore, WI 53809
Date of Release: November 29, 2021
Winter commencement planned for new auditorium
Fennimore
-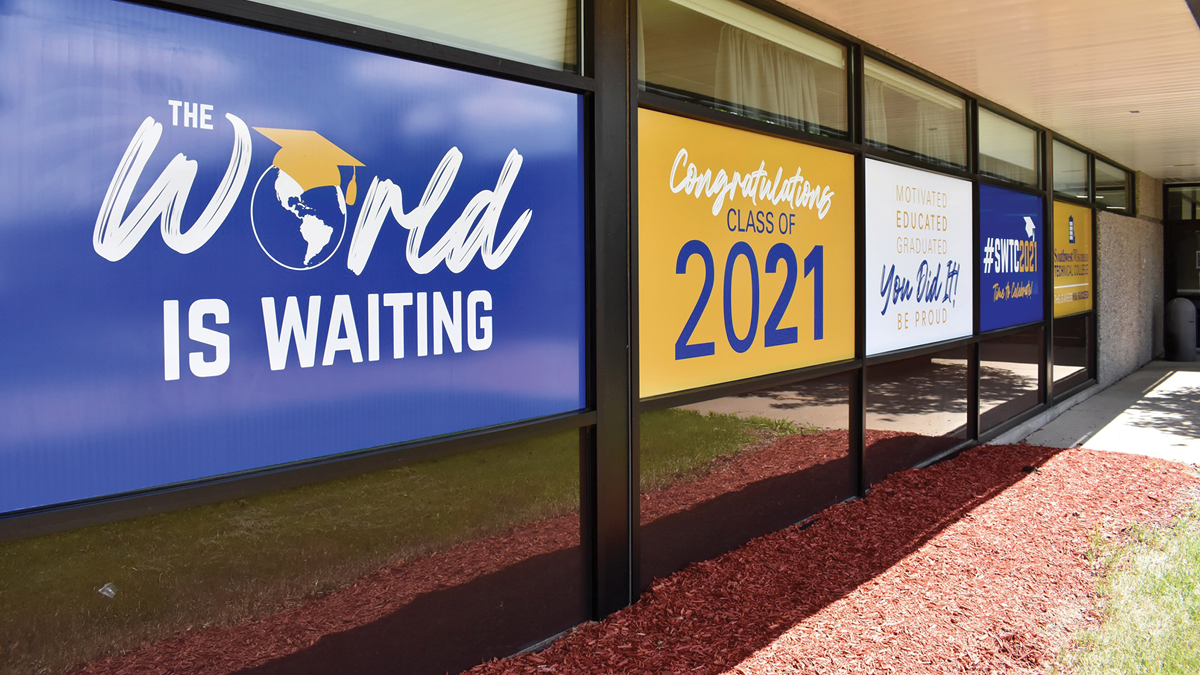 Preparations are being made for Southwest Wisconsin Technical College's 2021 Winter Commencement Ceremony. This year's event will be split into two ceremonies and will be held in the new campus auditorium on Friday, Dec. 10 at 1 p.m. and 3 p.m. Due to current COVID-19 protocols, all attendees will be required to wear a mask. The commencements were divided into two ceremonies to reduce crowd sizes.
"We are thrilled to be able to once again host a commencement inside and honor our graduates who have worked so hard to earn this achievement," said Dr. Jason Wood, Southwest Tech president.
The Southwest Tech Graduation Planning Committee has been meeting throughout the Fall semester, working with various groups on campus to help determine the best possible alternative for this year's commencement. "After much discussion and deliberation, we feel confident this is the best option for everyone involved," said Danielle Seippel, registrar. "The safety of our students and staff, as well as community members who come to campus is our top priority." College officials follow the health and safety guidelines from a variety of sources regarding preventive and proactive measures to combat COVID-19.
The current plan is subject to change, depending on COVID-19 developments.
Commencement speakers
Hannah Masters | Southwest Tech and State Student Ambassador
Hannah Masters, from Kendall, Wisconsin, will be graduating from the Criminal Justice – Law Enforcement program. She was drawn to Southwest Tech because of its "friendly environment, affordability and experience/educated instructors."
While on campus, Masters was vice president of the Blue Line Club, a student ambassador and state student ambassador, representing Southwest Tech.
Masters has been hired by the Lancaster Police Department and is working as a police officer. "I have always wanted to be a police officer ever since I was little," she said. "I wanted to make the word 'cop' or 'police officer' a welcoming word. I wanted those to feel comfortable to come up to me with their needs."
Masters' message to her fellow graduates will be, "Your life is your story, live it!"
Hailey Doyle | Student Speaker | 1 p.m. ceremony
Hailey Doyle, from Lancaster, Wisconsin, will graduate from the Dental Assistant program. "I chose this program because I enjoy helping and being around people, and I was confident that a career in the dental field would be a great fit for me," she said. "I have had a great experience at SWTC, and there is so many opportunities there for all students."
Following graduation, Doyle plans to continue to work and use her experience gained as a dental assistant in the community. "I may also consider continuing my education in becoming a dental hygienist," she said.
Doyle's message for the graduates is, "continue to look forward and strive to keep working hard. Congrats to everyone graduating this semester and everyone in the future! "
James Swim | Student Speaker | 3 p.m. ceremony
James Swim, from Stitzer, Wisconsin, will be graduating from the Welding program.
When Swim was young his family moved from Cary, Illinois to Fennimore, Wisconsin where he was home schooled. During his high school years his family built a house and moved to Stitzer. He was introduced to welding during a visit to campus. "It sounded interesting and there were good job opportunities," he said. "Also, I like working with my hands."
As his final welding project, Swim spent more than 60 hours building a steel cello. He will be performing the cello prior to each commencement ceremony. Read the full story here: https://tinyurl.com/2p8292n5.
Alumnus Speaker ­| Dan Imhoff, Executive Director of Facilities, Safety and Security at Southwest Tech
Dan Imhoff, the Alumnus Speaker, grew up in rural Muscoda, Wisconsin. He graduated from Riverdale High School in 1998. He completed an apprenticeship through Southwest Tech in 2003 and then graduated from the Supervisory Management program in 2016. He continued his education and graduated from the Business Management program at Franklin University in 2020.
After graduating from Riverdale High School, Imhoff worked for H&N Plumbing, Heating and Electrical for 13 years. While employed, he earned his college degrees.
He began, professionally at Southwest Tech in 2011 as master electrician before advancing to Director of Facilities in 2014. "I enjoy working with the people and helping students achieve their goals," he said.
Imhoff has a message for this semester's graduates. "A degree from Southwest Tech creates opportunities and changes lives," he said. "Be proud to be a Charger."
Additional information about the day and the specific schedule can be found at www.swtc.edu/fallgraduation.
| Southwest Wisconsin Technical College is one of 16 institutions that comprise the Wisconsin Technical College System. Southwest Tech offers more than 60 programs in a wide variety of disciplines. Courses are offered on campus, online and in a blended format. The college provides apprenticeship, certificate, technical diploma, and associate degree programs that respond to district workforce needs and prepare student for family-sustaining jobs and career advancement. |