For Immediate Release
Contact: Kim Schmelz, External Relations & Alumni Development
Phone: 608.822.2379
Email: kschmelz@swtc.edu
Mail: 1800 Bronson Blvd., Fennimore, WI 53809
Date of Release: May 6, 2019
Three Southwest Tech employees receive Wood Family Employee Excellence Award
Fennimore
-
President Jason Wood and his wife Kathryn established the Wood Family Employee Excellence Award to recognize current faculty and staff for service to the college that goes above and beyond, while demonstrating the values of the college. A committee on campus narrowed the finalists to 13 and on April 18 at the all-campus in-service on the Southwest Tech campus Margie Billings, Connie Haberkorn and Rex Smith were recognized as this year's recipients.
Billings, Southwest Tech Facilities staff member, was recognized for providing a valuable work experience for our students and summer employees in preparing them to be better prepared for future employment opportunities.
Haberkorn, Human Resources Benefit Coordinator, was recognized in several nominations for her work related to going above and beyond when serving employees. One employee stated, "during the past three years, I've routinely needed to access my health insurance benefits for the first time in my career; anytime questions or issues came up, Connie put on a quiet cape and helped resolve them."
Smith, Dining Services Manager, was recognized for his strong integrity, selflessness and the example he sets for students.
Nominations for the award were taken from campus "Shout-Outs" in which the employee was recognized for displaying the value of Integrity or Continuous Improvement. "Shout-Outs" are a form of recognition in which college employees are encouraged to recognize colleagues by submitting a Shout-Out form that details what the employee did that should be recognized and what college value(s) it aligns with. Wood presented the awards at in-service along with Holly Clendenen, Executive Director of the Foundation.
To learn more about Southwest Tech, the Southwest Tech Foundation or the Wood Family Employee Excellence award, please contact Clendenen at (608) 822-2362 or hclendenen@swtc.edu.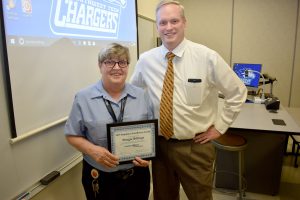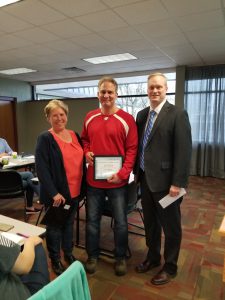 ###