Danielle Landgraf. Lily's Mom. Ben's Fiancé. Always An Artist.Graphic Web Design Program Student. Student Ambassador.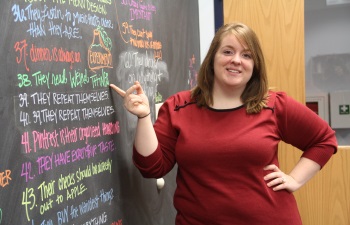 Ever since she was a little girl, Danielle has had a knack for art and design. When she was only five, her colored page won a contest and that was the day she declared that when she grew up, she would be an artist.
"At Christmas and for my birthday, I would always ask for those art kits with markers and colored pencils. Other than the time I wanted to be a weatherman on TV, it's always been art and design for me. And once I realized you had to be pretty good at science to be a weatherman, I knew design would be a better option for me."
Danielle grew up in Dubuque and graduated from Hempstead High School in 2008. She loved her journalism class and went on to help design the school newspaper and yearbook. Danielle was also involved in video production, student government, and speech contests. She excelled at coming up with new ideas and helping others.
"My friends tease me about being indecisive, but I just tell them it's because I always have tons of good ideas which makes it harder to decide!"
After graduation, Danielle attended a local university for Communication Technology/Media Studies.
"I loved the atmosphere of a four-year college and did enjoy my four years there as both a full-time and a part-time student. Something was missing for me though. I felt like I was just a number because the professors didn't even know my name. We studied design, but only touched the surface. I felt like I needed more hands-on, in-depth classes."
With only 50 credits between her and graduation, Danielle decided this was not the path she wanted to be on. She knew several Southwest Tech graduates who were very happy with the education they had received and decided she would give it try.
"I called Southwest Tech at the beginning of the 2012 fall semester and scheduled a visit. I knew that classes had already begun, but I was ready to make a change. In less than a week I was sitting in the classroom. My instructor and classmates were so helpful, they got me caught up in no time. I'm usually the one helping everyone else get projects done and coming up with the ideas so it was nice to have everyone help me this time. I hope throughout the last few semesters I have returned the favor."
Danielle was a Student Ambassador, a member of Student Senate, and a Social Media Ambassador.
"I felt like I am a part of Southwest Tech. When I walked down the hall, everyone was friendly and greeted each other. As an Ambassador, I was able to brainstorm with prospective students about what options would be best for them and in Senate we made decisions that influenced students for years to come. I love feeling like my opinion matters."
She was also the director of Graphic Innovation Group (GIG), the Graphic and Web Design club.
"In GIG, I was able to strengthen my leadership skills as well as build my portfolio. We had opportunities to assist faculty, staff and local non-profit organizations with various design projects, including brochures, T-shirts, logos, posters, invitations and photography. I've went out of my comfort zone and grew so much because of it."
In her free time, Danielle loves to spend time with her daughter, Lily, and her husband, Ben.
After graduating in May of 2015, Danielle landed her dream job at Dealer Socket in Oshkosh. Shortly after starting her new venture, she was awarded the Move Mountains badge. She's having a blast and we're proud she's a member of our Charger family!