Graduation speaker – Reg Gill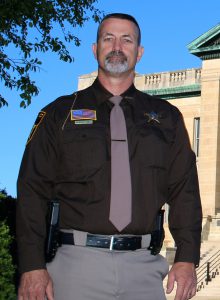 Reg Gill will be the speaker for the Health, Education and Public Safety Graduation Ceremony at 2 p.m. on Saturday, May 19 in the Ag/Auto Center. Gill currently serves as the Lafayette County sheriff.
Graduation Year/Area of Study: I attended SWTC the first time in 1984-1986, graduating with an Associate Degree as an automotive mechanic. Then in June of 1998, I returned to SWTC to begin taking classes as part of the part-time Law Enforcement Academy, finishing the academy in December 1999.
Hometown: I am originally from rural Shullsburg, Wisconsin and have recently moved back home to the farm I grew up on.
Current career position: I am currently coming up on the end of my first term as sheriff of Lafayette County.
What are your fondest memories of your time at Southwest Tech? My fondest memories of Southwest Tech are of the friendships that I developed with classmates as well as the instructors, many of who I still see from time to time.
Why did you choose Southwest Tech? I chose SWTC because I was very interested in cars and mechanical things at the time and wanted to learn more about building fast cars.
How did the education you received at Southwest Tech prepare you for your career? SWTC gave me the foundation on which I was able to build a career in the automotive repair industry. It also provided me the opportunity to apply for jobs in that industry. Although I am no longer in that particular field, I still use many of the skills I learned at SWTC regularly.
What advice do you have for current students as well as high school students, pondering their future? Try to develop skills that will make you marketable in a field that you enjoy. Be open to opportunities outside the box that you believe you fit in.