Justin Oswald, a Wauzeka, Wisconsin native is currently enrolled in the Industrial Electrician Apprenticeship program. He graduated from the Southwest Tech Ag Power and Equipment Technician program in 2013 and currently works in the maintenance department at 3M in Prairie du Chien, Wisconsin. Officials at 3M are supporting Oswald in this program by paying for his tuition. It's a winning collaboration between Southwest Tech, its business and industry partners and the students.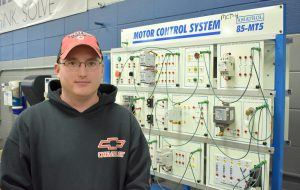 Oswald is in the second year of the four-year apprenticeship program. He attends class every other Monday. According to Bart Wood, apprenticeship instructor, once the students complete the program each student will have "between 5,000 and 8,000 documented hours in the four-year time frame" of learning on the job.
"We cover basic theory of electricity, the National Electrical Code, all things motors: wiring, controlling, motor drives, hydraulics and pneumatics, PLCs, and of course they are required to have First Aid and CPR training," said Wood.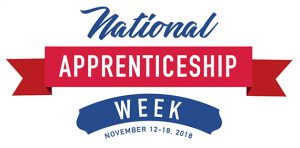 What is this apprenticeship program all about?
Basically, the apprenticeship program is to further my education, more specifically for the maintenance program at work. I am an industrial electrical tech at 3M. They wanted to further my education to make me into an electrical tech to get the schooling behind it. They sponsor it, which is great.
Why were you interested in the apprenticeship program?
It's intrigued me because I have a mechanical background, but I have no electrical background. I thought well, if I could join maintenance and get that knowledge as well that would be a huge asset to maintenance to have someone who could do both. I have been learning electrical and there is more to it than I thought, but it's good knowledge to have. I can use it here and outside of work, on my residential electrical stuff, too.
What have you learned, so far, in the apprenticeship program?
I have learned a lot of code book and what the rules are. It's not just, you put a pipe down and throw some wires in it. There are rules. There are certain distances when you are running in certain areas and certain temperatures. There are a ton of rules and things you need to understand and regulations that need to be followed. That's very beneficial for when we're running new projects at work.
Having the opportunity through 3M to be involved in this apprenticeship program must give you a renewed energy for your job?
Yeah, it definitely helps with that. Overall, it's a really good program because they take care of you while you're coming to school. They cover all of the expenses. You just have to drive here. They want you to become a better tech for them, so it's benefitting them tremendously to have someone learning all this information and to be able to bring it to the table.
What are your goals once you have completed the program?
Once I graduate, I'll be a full-time electrical tech (currently an apprentice). Our numbers are low due to a lot of retirements, so we're looking for good guys too. This program is wonderful to get people moving in the right direction for that.
What advice would you have for others who may have an interest in an apprenticeship program?
I am all for it. I have had people ask me already about it. We actually do both the mechanical and electrical. I highly recommend it. It's a good program. 3M isn't pushy. If you don't understand what's going on they are going to have someone with you. They really want to train you to be as good as everyone else. They don't want you to feel under pressure. They just want you to become a good tech and they really do try to keep you on the right path. I highly recommend it for the fact that it's a good school and it's worth the education. You can't lose that education. You'll always have it with you.
For more information about Southwest Tech apprenticeship programs visit: www.swtc.edu/academics/apprenticeships/.