Title: Director of College Effectiveness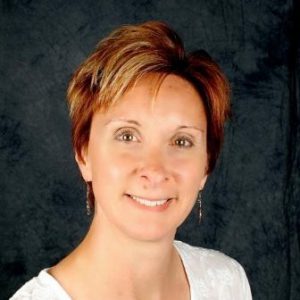 Hometown: Lancaster
Educational Background: Bachelor's degree from UW-Platteville; Master's degree from UW-LaCrosse
Tell us a little about yourself: Married to a great guy who has put up with me for almost 33 years. We have a son, 23 (graduate of the Southwest Tech Electro-Mechanical Technology program) and daughter, 19 currently in college studying nursing. I am extremely thankful and proud of our children. We also have an aging black Lab, Cola who is my morning walking partner. I really enjoy the outdoors. I am a "want-to-be" victory gardener but I have a long, long way to go. I love everything that has to do with water – swimming, boating, fishing, canoeing, kayaking, water skiing, tubing, etc.
What noteworthy experiences led you to (pursue a career in this field) and to Southwest Tech? Honestly, I never pursued a career in grant writing. I didn't know this career existed. Most of my working career has been in the employment and training field. I started my career in workforce development where I was responsible for granting funding to agencies who assisted unemployed and low-income residents obtain the skills needed for employment. My husband's employment took us to Janesville where I had my first introduction to grant writing while working at Blackhawk Technical College.  It was at Blackhawk Tech where I met Karen Knox, who later became president of Southwest Tech.
I also was introduced to Ellen Day Lueck, who held my current position for decades at Southwest Tech.
My husband's employment required three additional moves in 15 years with a final move, which unexpectedly brought us back to southwest Wisconsin. I initially returned to work in workforce development until Lueck reached out to me to share that she was retiring and encouraged me to apply for her position. While I was not hired in my current position, I was initially hired at Southwest Tech as the evaluation coordinator and then promoted to my current position upon my predecessor, Susan Allen's retirement. What is noteworthy is that I never dreamed that interactions I had very early in my career with Knox and Lueck would benefit me nearly 15 years later.
What do you wish people knew about grants at Southwest Tech? I hope that everyone understands the impact that grant funding has on expanding, updating, and providing education to our students and employers. Typically, the deadlines are tight and we don't have a lot of time to work through all the details. They are like the initial blueprints of a plan. There are always things that come up that you don't plan for.
What are the impact of grants on students? Several programs have been started through grants. We are often able to offer new programs that we wouldn't have been able to offer, such as supply chain management, lab science, and cancer information. We have more state funded grants, but the federally-funded grants offer more financial benefit.
We not only serve our students, but we also serve our regional business community.
We also utilize grants for worker training with area businesses.
Since you began in this position in 2009-10, how much grant funding has the college received? From 2009 through 2017 we received $19,499,151. The total number of grants through this period was 424. In 2018-19, thus far, we have currently received 33 grants.
Which grant(s), during your time, stick out to you? The department of labor "skill-up" H1BVisa grant provided training to 103 incumbent workers from 15 regional companies to increase the skill level of industrial maintenance and information technology technicians in network communications. Training offered included Cisco Networking for Manufacturing, Combined Ethernet Industrial Protocol, Data Highway, and PLC Technologies. This was a grant in partnership with Northeast Iowa Community College (NICC was the lead). Employer partners included: 3M, B&E Electric, Bemis Curwood, Cabelas, Cardinal Glass, Cummins Solution, Die Makers Manufacturing, Foremost Farms, Grede Foundry, Lands' End, Organic Valley, Schreiber Foods, Scot Industries, Universal, and WhiteHill Cheese.
Another grant that was impactful to our college and our students was the Great Lakes Higher Education "Dreamkeepers" emergency grant. This 3-year grant provided emergency funding to 124 students in the range of $200–$500 to help with unforeseen costs that had the potential to impact continued enrollment and/or eventual program completion. This project required partnering with the Southwest Tech Foundation to raise 12 percent matching funds by the end of the third year. Thanks to our caring staff and generous Foundation donors, the Foundation easily exceeded the required match. This project set the stage for the current Charger Dream fund that continues to provide emergency funds to students in need.
Tell me a little about your experience at Southwest Tech: I have worked at Southwest Tech longer than any other position in my working career. I continue to be amazed at the dedication that everyone at this college has for our students. It's a good place to be. I also appreciate that we are small enough that we can be flexible to quickly make changes needed to better serve our students and employers