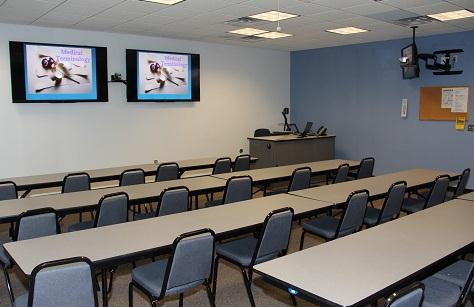 ITV Courses
ITV courses are taught through campus-based Interactive Television facilities which make it possible for one instructor to teach a course to as many as four different locations at once.
ITV courses are listed along with traditional classroom courses in the course listing. To take an ITV course, students follow the same procedure as for a traditional classroom course.
ITV Etiquette
BE ON TIME: Arriving late is always disruptive to the class, but the effect is multiplied when the sound of your entrance is amplified and broadcast to all of the sites.
SPEAK CLEARLY: When you are not all in the same room it is important that your words are picked up and broadcast clearly to all sites.
BE QUIET: Sounds, intentional and unintentional, will be picked up by the microphone and sent to the other sites. Rustling paper, coughing, tapping, etc., are amplified when sent through the microphones and are very distracting to students at the other sites.
REMEMBER WHERE YOU ARE: Any time you are in an ITV room, assume that what you say or do may be seen and heard in another location. Remembering this may save you some embarrassment!
PARTICIPATE: Please don't hide off camera! The camera creates an important link to other classrooms and instructors. You need to ask questions and get involved in the interaction. This is your class. Essentially, you create interactive television. Get Involved! Participate!
Available ITV Sites
Belmont High School
Black Hawk High School
Boscobel High School
Cassville High School
Cuba City High School
Darlington High School
Dodgeville High School
Dodgeville Outreach
Fennimore Highschool
Iowa-Grant High School
North Crawford High School
North Crawford High School
Platteville High School
Platteville Outreach
Prairie Du Chien High School
Richland Center High School
Richland Center Outreach
River Ridge High School
Seneca High School
Shullsburg High School
Southwestern High School
Wauzeka-Steuben High School
To schedule use of the ITV system, please contact MJ Dachelet, Media Specialist.