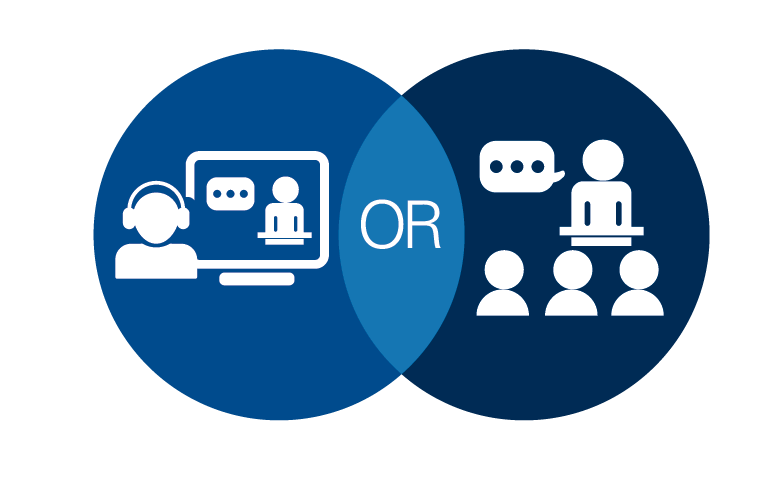 What is HyFlex?
"HyFlex (Hybrid-Flexible) courses are face-to-face lecture courses offered at specific times that combine options for in-person or virtual connection via Zoom delivery as approved/determined by the instructor. Students may choose the option that works best for them on any given day."
HyFlex means Hybrid/Flexible which combines both online as well as face-to-face teaching and learning activities. This allows students to choose whether to attend face-to-face or virtually with no learning deficit.
Why is HyFlex a good option for students?
With HyFlex, we meet you where you are. HyFlex offers flexibility by either attending class in person or remotely depending on their individual needs and wants. Schedule, personality, and work or family requirements can affect a student's schedule.

Courses scheduled to be offered in the Spring of 2022
Marriage & Family
(Course #10-809-128, Section 01)
Abnormal Psychology
(Course #10-809-159, Section 02)
Advanced Anatomy and Physiology
(Course # 10-806-179, Sections 01, 02, & 03)
Lab hours will require on-campus attendance
Developmental Psychology
(Course #10-809-188, Section 02)
Introduction to Psychology
(Course #10-809-198, Section 03)
Introduction to Sociology
(Course #10-809-196, Section 02)
General Anatomy & Physiology
(Course #10-806-177, Sections 07 & 08)
Lab hours will require on-campus attendance
Math W/Business Applications
(Course #10-804-123, Section 03)
Introductory Statistics
(Course #10-804-1859, Section 02)
Students will be required to be on campus the days tests are given
College Math
(Course #10-804-107, Section 03)
Students will be required to be on campus the days tests are given
Applied Math
(Course #31-804-305, Section 08)
Students will be required to be on campus the days tests are given