UPDATE FROM PRESIDENT, JASON S. WOOD, Ph.D. – March 18, 2020
Dear Campus Community,
Many, many faculty and staff are striving to serve students in a new reality that continues to shift. The Emergency Response Team continues to work hard to serve you. I am grateful for each of your efforts, and the emphasis on choosing trust and happiness.
Here are the updates:
Access to Facilities

The Fennimore Campus is closed to the public.  We will operate with very minimal levels of staffing and only offer minimal services to current students.  Only the main entrance to building 400 will be open for current students to access support services outlined later in this email.
All outreach locations will remain closed until further notice.
Faculty and staff will work remotely as much as possible.  Anyone working on campus must have the permission of their supervisor in order to ensure minimal levels of staffing are maintained.  Please practice social distancing at all times.

Services Available to Current Students

Nearly all services will be available to students either online or by phone.  Please remember many of our students are new to the online world.  We will help them navigate the online or alternative options to the best of our abilities.  Kudos to our team of advisors (Kelsey, Jordyn, Pauline, and Matt) who registered over 150 people yesterday while working entirely remotely. 🙂
The on campus Chargers Cupboard food pantry is closed.  We recommend that all students use the Fennimore Food Pantry that has been relocated to the Family in Faith Church (former Silent Woman Restaurant) located at 1096 Lincoln Ave, Fennimore, WI. They do have delivery options available.  Unfortunately we are unable to commit to staffing a food bank and maintaining donations but we are confident our students will be taken care by the resources available in the community.
On Friday we will communicate more specifics regarding options students will have to receive support and assistance through the minimum staffing and services that will be available on campus starting Monday, March 23.  If a student needs services or support, please have them reach out to that department by phone or email or to ask their advisor.

Instructional Continuity and Contingency Plan

Please continue to ensure our high level of academic rigor and integrity is maintained.
All online classes will resume on Monday, March 23.  We implore faculty to restructure due dates to accommodate students' various situations.
Many courses that were offered face-to-face will begin being delivered in alternative formats beginning Monday, March 23.  We ask that faculty communicate with their students regarding specific instructions.  The master list is not ready for public dissemination as anticipated.  We will keep you updated and share it when it is available.
Courses or programs which require face-to-face instruction or lab work will comply with the mandate by Governor Evers by ensuring fewer than 10 people participate at a time.  We will also wait until April 6 to begin these offerings out of an abundance of precaution for the safety and well-being of our faculty, staff, and students.  We anticipate additional safety precautions will be implemented as well which will be communicated prior to April 6.
Students will hear directly from their Deans or Faculty regarding any specific instructions for their programs.
Public Safety offerings governed by the Department of Justice will continue per DOJ requirements and be in compliance with the Governor's orders.

Employment and Compensation

We remain committed to matching people with work responsibilities, especially as some people have personal situations to address that make them unavailable to work.  We anticipate being able to announce more detailed instructions and opportunities before Wednesday, March 25.  This allows us to monitor federal legislation, implement newly enacted laws, and complete our internal review of available work projects.
Krista, Connie, and Annetta have compiled responses to Frequently Asked Questions (FAQ) which are attached to this email (available to staff on the Hub).  There is one document for employees and one document for supervisors.  We anticipate additional questions and responses being added as we move forward and, while they are very similar documents at this point, it is likely they will evolve and have unique content.
Please remember not all employees will be able to work from home and not all employees will be able to work every day at home.  There may be times when employees are asked to return to campus to complete work assignments. We know a full workday while working at home will look different for each of you.  I have all the trust and confidence our faculty and staff are giving their very best and we will continue to find ways to help you serve our students.

Policy Considerations

We will consider presenting to the Board of Directors a "late withdraw" policy that would extend the timeframe for students to withdraw and get their money back.  We simply have to recognize some of our students may not be successful in this new environment, have other more pressing priorities at this time, or are facing other extenuating circumstances that it would be in their best interest to get their money back.
We will request emergency funding from the Board of Directors to cover costs for short-term needs.  It is anticipated the initial funding request will be less than $500,000 and could be applied to any efforts we make to limit the spread of the virus, offer support for students to continue learning, or provide opportunities for employees to continue working.
We anticipate a policy proposal to the Board of Directors related to paid leave, pending enacted legislation, and our specific response will be designed to help the most people we possibly can recognizing our resources will be stretched across the number of people we are serving and must last for an unknown length of time for this crisis to pass.
Please only travel, both for work and personally, if it is absolutely essential, and refrain from public places as much as possible.  Choosing to do this, before it is mandated, may be our best chance at winning the war on the virus.
Finally, it is important for me to remember the resiliency and courage of our faculty and staff as our world is literally changed before our eyes.  I acknowledge the stress and fear we are feeling coupled with the danger of loneliness and isolation.  We have recently learned about the real threats faced by fictitious frogs – the herons, the deluge, the thrall – all very real threats to the frogs' health and well-being.  They chose to thrive and we will make the decision to adapt and help our students achieve their goals.  You are each an inspiration to me.  Here are a few highlights of superstars burning bright with orange splendor! 🙂
Orange Frog Moment from Ed Anderson, Welding Instructor: "I have been very stressed with all that is happening especially since my internet has been slooooooow with everyone at home and using it. I shut my computer off and looked out the window for an hour today. I saw so many different birds, an opossum, and our white and grey Siamese cat stalking a buck that had recently lost its antlers and you can see the spots where the antlers were. We did get the cat and buck on camera. Also, Janelle was very happy that "on my lunch hour" I was able to collect 100 gallons of sap for her maple syrup process."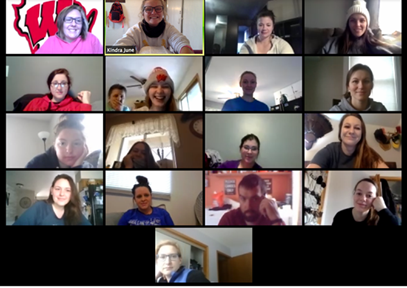 Orange Frog Moment from Justine Sparrgrove, Nursing Faculty: Justine Sparrgrove's Online Associate Degree Nursing Program testing out the new format! Thank you, Justine, for adapting to this new reality and ensuring it works for your students.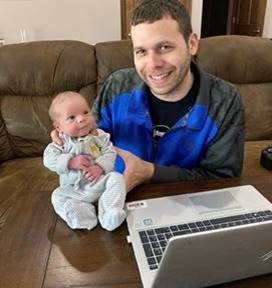 Orange Frog Moment from Jason Robbins, CNC Instructor: Here is a picture of my new son and I working from home. John Thomas was born last Monday 3/9. So this time working at home has given me a chance to spend a little extra time with him. Thanks, Jason Robbins.
Thanks,
Jason