For Immediate Release
Contact: Daniel Wackershauser, Marketing Specialist
Phone: 608.822.2303
Email: dwackershauser@swtc.edu
Mail: 1800 Bronson Blvd., Fennimore, WI 53809
Date: August 24, 2018
'Chipper Days' assists area farmers
Fennimore
-
With each harvest season comes the annual Corn Silage Chipper Day event, organized in part by Southwest Wisconsin Technical College. This year's "Chipper Days" were held at Krone America in Platteville on Aug. 22 and at Reddy Ag Service in Stitzer on Aug. 24. The events allow for area farmers to have corn stalk samples analyzed for moisture levels. Rock River Laboratory, Inc. provided the analysis on the corn stalks.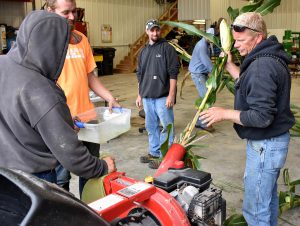 "We get the whole corn plant broken down into smaller pieces and then we determine what moisture content they are and they use that information as a guide for when they should start making silage from the whole plant," said Ed Ruff, farm business and production management instructor at Southwest Tech.
According to Kory Stalsberg, farm business and production management instructor, there were 118 samples presented in Platteville and 184 samples presented in Stitzer. The average moisture level was 66.1 percent at Platteville and 70.4 percent at Stitzer.
"Overall, the corn silage crop seems to be maturing at a little more rapid rate than last year," said Stalsberg. "Many farmers will be taking advantage of the next dry window to take another hay crop or start on corn silage. Ideally corn silage should be harvested and stored at 60-70 percent moisture. Storage methods play a role in ideal moisture to harvest. Bunks and piles are harvested on the wetter side where upright silos and bags are harvested on the drier side of the range."
In addition to the moisture level test, there was also a shaker box analysis held at each site to test the pack on the corn silage. A third test included, "trying to educate producers on the particle size distribution within that corn silage," said Ruff.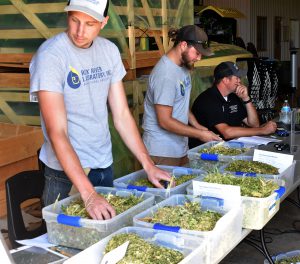 "The best way to allow your animals to utilize the corn silage you harvest is to make sure the kernels are processed into smaller pieces, not just merely nicked or broken," added Stalsberg. "The best time to assess kernel processing is at harvest and make the adjustments. Ideally, processed corn silage should have no whole or cracked-kernels. If there are almost no whole kernels, but many nicked, cracked or broken, then kernel processing would be adequate. Take the time this fall to assess how well the kernels in your corn silage is being processed. Please be safe doing this and have a bountiful harvest."
A portion of the "Chipper Days' event was a continuation of a corn silage conference held in Dubuque, Iowa in June. "We're trying to bring the educational material to the farmer and help them recognize that while we're doing this process it's not just a matter of getting the silage to the silo, but it has to be done properly," said Ruff. "That's what management is all about."
For additional information on the Southwest Tech Farm Business and Production Management Program: www.swtc.edu/FBPM