For Immediate Release
Contact: Daniel Wackershauser, Marketing Specialist
Phone: 608.822.2303
Email: dwackershauser@swtc.edu
Mail: 1800 Bronson Blvd., Fennimore, WI 53809
Date: September 5, 2018
Options allow high school students to jump start college career
Fennimore
-
New and traditional programs offered through Southwest Wisconsin Technical College in Fennimore, Wisconsin aim to give high school students a career advantage upon graduation.
20/2020
New this fall is the 20/2020 program, designed specifically in the debut year for those interested in the lab science technician, general education, or nursing programs. This program is a collaboration between CESA 3 and Southwest Tech. All courses in the 20/2020 program are taught by Southwest Tech faculty.
For high school students with an interest in the lab science technician field, he or she would begin the program during the junior year. Following high school graduation, the student would complete a two-credit internship fulfilling the 29-credit requirement, earning a technical diploma.
The 20/2020 nursing program is designed for sophomores to start with foundation courses. As a junior, the student would take the first semester of Southwest Tech's nursing curriculum. The second semester curriculum would be taken during the student's senior year and would then enter Southwest Tech as a second-year nursing student. The students who successfully complete this nursing program will avoid a wait list for the Southwest Tech nursing program.
The third track of the 20/2020 program is Gear Up – General Education. Students in this track can earn up to 18 transferable college credits while enrolled in high school. Courses offered this fall include Introduction to Psychology, Economics, and Statistics. Spring courses include Introduction to Sociology, Speech, and Written Communication. The Gear Up classes were established in conjunction with the Universal Credit Transfer Agreement.
The general education programs are taught in an academy format, delivered via online technology at the student's high school during their junior and senior years. The students meet twice weekly with the Southwest Tech instructor via Internet video technology for live lectures. The other class times are spent online, separate from the other classmates or instructor.
The lab science and nursing programs require the students to attend some classes on the Southwest Tech campus.
Students receive both high school credit and technical college credit for these courses. They are considered a high school student as well as a Southwest Tech student in these courses.
There are 18 students enrolled in the three programs, combined for this inaugural year.
Dual credit
Dual credit courses allow high school students to take college-level courses at their school. The classes earn the student credit both at the high school and at Southwest Tech.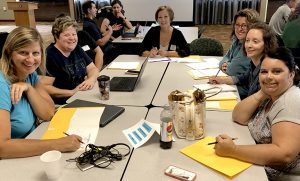 "I think dual credit classes are a wonderful opportunity for students to experience the rigors and benefits of college-level courses of study while still in the high school learning environment," said Amy Flynn, psychology and economics teacher at Lancaster High School.
"Students who take advantage of dual enrollment at Fennimore High School have more freedom when making future educational plans," said Samantha Goss, who teaches dual credit beginning and advanced computer applications, personal finance and accounting classes at Fennimore High School.
"First and foremost, these classes have had a positive impact on our students financially because of the transcripted college-credits earned while in high school," said Flynn. "It has also given them the opportunity to register early for classes because of this advanced credit standing and then ultimately graduate early too. In addition, many of our students have also pursued degrees and careers in specific courses of study because of the dual credit classes that they were introduced to in high school."
"I would tell students and parents that if they are interested in saving time and money when looking at all the costs of a post-secondary education, they should take advantage of the dual credit opportunities offered through SWTC. They are definitely a win/win situation for families," added Flynn.
"I suggest all parents and students look at their students desired career outcomes and ensure that the student takes all the dual enrollment classes that pertain to those goals," said Goss.
Each of the high school teachers must be correctly certified, per Higher Learning Commission guidelines, in order to teach the college-level course, which results in additional training.
This is an opportunity for high school teachers to improve their credentials.
Southwest Tech is accredited by the Higher Learning Commission (HLC) and adheres to its standards. Without HLC accreditation, federal and state financial aid eligibility would not be possible.
"We want to make sure that the same quality of class is being taught at the high school level that is being taught at the college level," said Mary Johannesen, career prep and dual enrollment coordinator. "In the end, this is all about the level of education our students receive, both at the high school level and at the college level. It's another opportunity for high school teachers to improve their credentials."
For the 2017-18 school year, 131 dual credit courses were offered at 28 high schools in the Southwest Tech district. Nearly 1,400 unduplicated students successfully completed courses to earn 5,548 credits with a tuition value over $800,000.
College Start
Also new is Start College Now, formally Youth Options. The program has the same general layout and includes juniors and seniors in public high school. They are allowed to take courses through Southwest Tech that are not comparable to courses already offered at the high school.
A common theme with all of these programs is the dedication from the school districts and high school teachers within Southwest Tech's five-county district (Grant, Iowa, Lafayette, Crawford, Richland) allowing for students to earn both high school and college credit, while still enrolled in high school to obtain a head start on post-secondary goals.