For Immediate Release
Contact: Daniel Wackershauser, Marketing Specialist
Phone: 608.822.2303
Email: dwackershauser@swtc.edu
Mail: 1800 Bronson Blvd., Fennimore, WI 53809
Date of Release: December 20, 2019
CollEDGE UP program being taught at Richland Center High School
Richland Center
-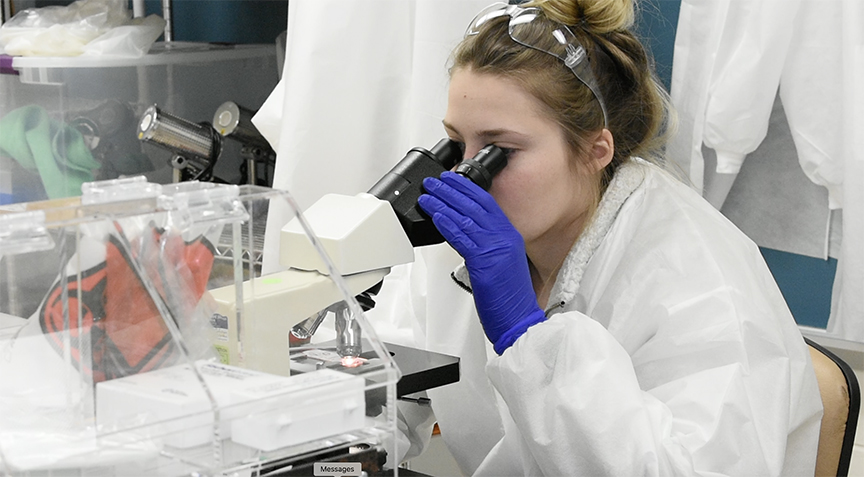 Southwest Wisconsin Technical College in Fennimore, Wisconsin is taking an innovative approach to helping educate high school students and get them on a pathway to career success. In collaboration with Richland Center High School and CESA 3, Southwest Tech is offering the One and Done Laboratory Science CollEDGE Up program at the high school.
Linda Kious, medical lab tech and lab science instructor for Southwest Tech, currently teaches the course at the high school. She is working with Karen Bricco, who will be instructing for the program beginning in January 2020. "The focus of the program is dairy quality lab testing," said Kious. "Because there are so many cheese manufacturers and butter manufacturers and dairy producers in this part of the state, obviously, they need food quality technicians to test the product all the way through the production cycle and also to test the environment to make sure there are no pathogens that get into the food."
The program consists of 16 credits, with the students in lab science class from 8:30–11:30 a.m. Monday–Friday. That includes a combination of online work and face-to-face lab time twice each week. "This one (program) is unique in that we actually provide the teaching within the high school through both online learning modules and face-to-face labs," said Kious.
Upon completion of the one-year program, the students will earn a technical diploma in addition to their high school diploma. In addition, they will be workforce ready and able to gain employment at any of the dairy testing facilities in need of employees.
This year's class at Richland Center High School includes four seniors, who are all intrigued by what they are learning. Alexis Klingaman, one of the students, plans to continue her education at Southwest Tech, upon graduation.
"I want to go to school for chemistry and the whole idea of being in a lab, I thought that would help me out in my career," said Cameron Bratzke, Richland Center senior.
| CollEDGE UP is offered through Southwest Tech as part of a student's Academic Career Plan (ACP). It allows students to save money and time in earning a degree, and it may allow for time for other classes or to work while attending college.
The three areas covered by the CollEDGE UP program include One and Done Laboratory Science, 11-12-14 Nursing and Gear Up general education transferable courses.
The CollEDGE UP program is offered to all school districts in the Southwest Tech district through an academy/cohort format. The classes are offered at each high school in the following formats:
SRTNC (BlueJeans or Zoom); synchronous video lecture or recorded video lecture
Online (Schoology)
Face to face if the student wishes to attend the Southwest Tech campus
The program began in fall 2018 and has been growing at a rapid rate. In fall 2018, a total of 17 students from five school districts, Boscobel, Black Hawk, Lancaster, Mineral Point, and Potosi, enrolled in a total of 103 credits. In fall 2019, the number of students has grown to 47 students enrolled in a total of 173 Southwest Tech credits. Districts represented this fall include Barneveld, Black Hawk, Boscobel, Cuba City, Fennimore, Highland, Ithaca, Lancaster, Mineral Point, North Crawford, Pecatonica, Potosi, Richland Center, Southwestern, Wauzeka-Steuben and Weston.
For more information, contact Mary Johannesen, career prep and dual enrollment coordinator, at 608.822.2367 or mjohannesen@swtc.edu. |
| Southwest Wisconsin Technical College is one of 16 institutions that comprise the Wisconsin Technical College System. Southwest Tech offers more than 60 programs in a wide variety of disciplines. Courses are offered on campus, online and in a blended format. The college provides apprenticeship, certificate, technical diploma, and associate degree programs that respond to district workforce needs and prepare student for family-sustaining jobs and career advancement. |