For Immediate Release
Contact: Daniel Wackershauser, Marketing Specialist
Phone: 608.822.2303
Email: dwackershauser@swtc.edu
Mail: 1800 Bronson Blvd., Fennimore, WI 53809
Date: September 10, 2018
Dairy Goat Academy to attract experts in the field
Fennimore
-
In coordination with the Wisconsin Dairy Goat Association, Southwest Wisconsin Technical College in Fennimore, Wisconsin, will be hosting the Dairy Goat Academy on Sept. 28 and 29. The two-day event will include meat goat specific programming, as well as breakout sessions for dairy goat training. There will also be farm tours, a trade show and auction.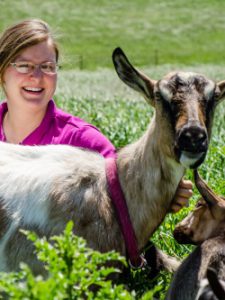 "Wisconsin leads the nation for dairy goat production, with the majority of milking goats located right here in southwest Wisconsin," said Clare Heberlein, dairy goat herd management coordinator/instructor at Southwest Tech. "This growth in the southwest portion of the state is due in large part to Saputo having two goat cheese factories; one in Belmont and one in Lancaster, drawing goat producers to this area of the state. Saputo is the lead sponsor for our Dairy Goat Herd Management Certificate Program."
This year's keynote speaker is Dr. Paul Plummer, associate professor at Iowa State University. He will discuss dairy goat animal welfare, an emerging topic in the dairy goat industry.
The event will also include breakout sessions on both dairy and meat goat production, covering parasite management, marketing goat meat and cull animals, and extended lactations, among others. Hands-on sessions on goat milk soap making and production and fecal sampling will be offered. Two virtual farm tours will be available, in addition to a traditional tour of the Gingerich Goat Dairy.
New this year is the Wisconsin Dairy Goat Association's Select Goat Sale on Saturday, Sept. 28 at 3 p.m. Ten top quality breeding animals from throughout the state will offered at the auction. Breeds to be sold include Alpine, Lamancha, Nigerian Dwarf, Oberhasli, and Toggenburg.
Additional information about the event is available at www.swtc.edu/dairygoat or by contacting Heberlein at 608-822-2723 or cheberlein@swtc.edu.