For Immediate Release
Contact: Daniel Wackershauser, Marketing Specialist
Phone: 608.822.2303
Email: dwackershauser@swtc.edu
Mail: 1800 Bronson Blvd., Fennimore, WI 53809
Date of Release: September 18, 2018
Farm to Tech event offers unique dining experience
Fennimore
-
The first-ever Southwest Tech Farm to Tech Table Progressive Dinner offered a unique dining experience on Sept 15. More than 100 attendees were treated to a delicious meal of local farm fresh ingredients, some grown on campus. The meal was prepared by culinary students and alumni, under the direction of Karen Bast, culinary arts/management instructor at Southwest Tech, along with Jeff Dombeck, culinary instructor.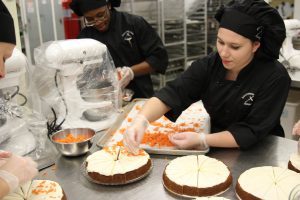 "The entire evening went really well," said Kim Schmelz, external relations and alumni development director. "We heard several very complimentary comments and I was really impressed with what our students accomplished with the assistance of Jeff and Karen."
The meal was held at four locations throughout campus, allowing each area to be showcased.
Proceeds from the event supported the on-campus food pantry (Chargers Cupboard) and culinary program scholarships.
Guests included community members, retirees, local business and chamber members, as well as alumni and other friends of the college.
To learn more about Southwest Tech's culinary programs, visit www.swtc.edu/culinary.