For Immediate Release
Contact: Daniel Wackershauser, Marketing Specialist
Phone: 608.822.2303
Mail: 1800 Bronson Blvd., Fennimore, WI 53809
Date of Release: September 30, 2022
New program opens criminal justice field to high school students
Fennimore
-
A group of 10 area high school students are getting an up close look at the work of law enforcement thanks to a new opportunity through Southwest Wisconsin Technical College. A Criminal Justice Studies program was launched as part of Southwest Tech's CollEDGE Up offerings this semester. The fall class is Introduction to Corrections, while the spring semester's class will be Introduction to Criminal Justice.
The program is a collaboration with a variety of Southwest Wisconsin public safety agencies, including the Department of Corrections. As part of the hybrid course this fall, students spend 50-percent of their time visiting area corrections facilities. Thus far, they have toured and met staff at the Grant County Jail in Lancaster, the Wisconsin Secure Program Facility in Boscobel, the Challenge Academy in Ft. McCoy, the Prairie du Chien Correctional Institute and Crawford County Jail, as well as the Iowa County Jail in Dodgeville and the Lafayette County Jail in Darlington. "The field visits have been very interesting and has given them a unique opportunity to tour and get different perspectives on the career field outside of the classroom," said Lt. Theresa Burgess, criminal justice adjunct instructor at Southwest Tech and lieutenant at the Lafayette County Sheriff's Department. "The students have provided very positive feedback in regard to having the opportunity to do some hands-on learning with the field visits."
According to Tom Kretschman, criminal justice instructor at Southwest Tech, there are three elements to the program – the courts, law enforcement and corrections. "It's one thing to sit and listen to a podcast or lecture, but it's a whole other thing when you can go out into the field and actually see the facility," he said. "Even for those individuals who do not want to go into criminal justice, we want it to be a value because everybody becomes a voter, everybody becomes a taxpayer, everybody lives and serves in a community in some capacity and we really wanted to provide an opportunity for individuals and future leaders to see what goes on behind the scenes, and I think Theresa has done a phenomenal job of that."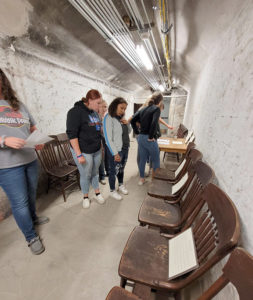 Not only are the students learning and seeing first-hand about a potential career field, which is in need of new employees, they are also earning college credit. Students earn three college credits for each class completed. According to Mary Johannesen, career prep and dual enrollment coordinator at Southwest Tech, students have the option to take two general education classes in the Criminal Justice program, as well, meaning they could earn 12 college credits through this program when they graduate high school. "It's a good opportunity for students," she said. "It's a good way for them to explore this career field without having a commitment. They can take exploratory type courses and then determine if it's something further that they want to pursue."
Burgess noted now is a great time to enter the criminal justice field. "It is a very exciting time to enter law enforcement and correction fields right now as there is a shift to an employee market," she said. "There has been changes that allow the employee to have unlimited employment options within the career field with great benefits and options for promotion. This program is an excellent opportunity for students to put themselves into those openings sooner than traditional course study."
The program is open to high school juniors and seniors in Southwest Tech's five-county district.
More information is available at www.swtc.edu/colledgeup.
| Southwest Wisconsin Technical College, a finalist for the 2023 Aspen Prize for Community College Excellence, is one of 16 institutions that comprise the Wisconsin Technical College System. Southwest Tech offers more than 60 programs in a wide variety of disciplines. Courses are offered on campus, online, HyFlex and in a blended format. The college provides apprenticeship, certificate, technical diploma, and associate degree programs that respond to district workforce needs and prepare student for family-sustaining jobs and career advancement. |