For Immediate Release
Contact: Daniel Wackershauser, Marketing Specialist
Phone: 608.822.2303
Email: dwackershauser@swtc.edu
Mail: 1800 Bronson Blvd., Fennimore, WI 53809
Date of Release: February 19, 2020
Southwest Tech bookstore on the move
Fennimore
-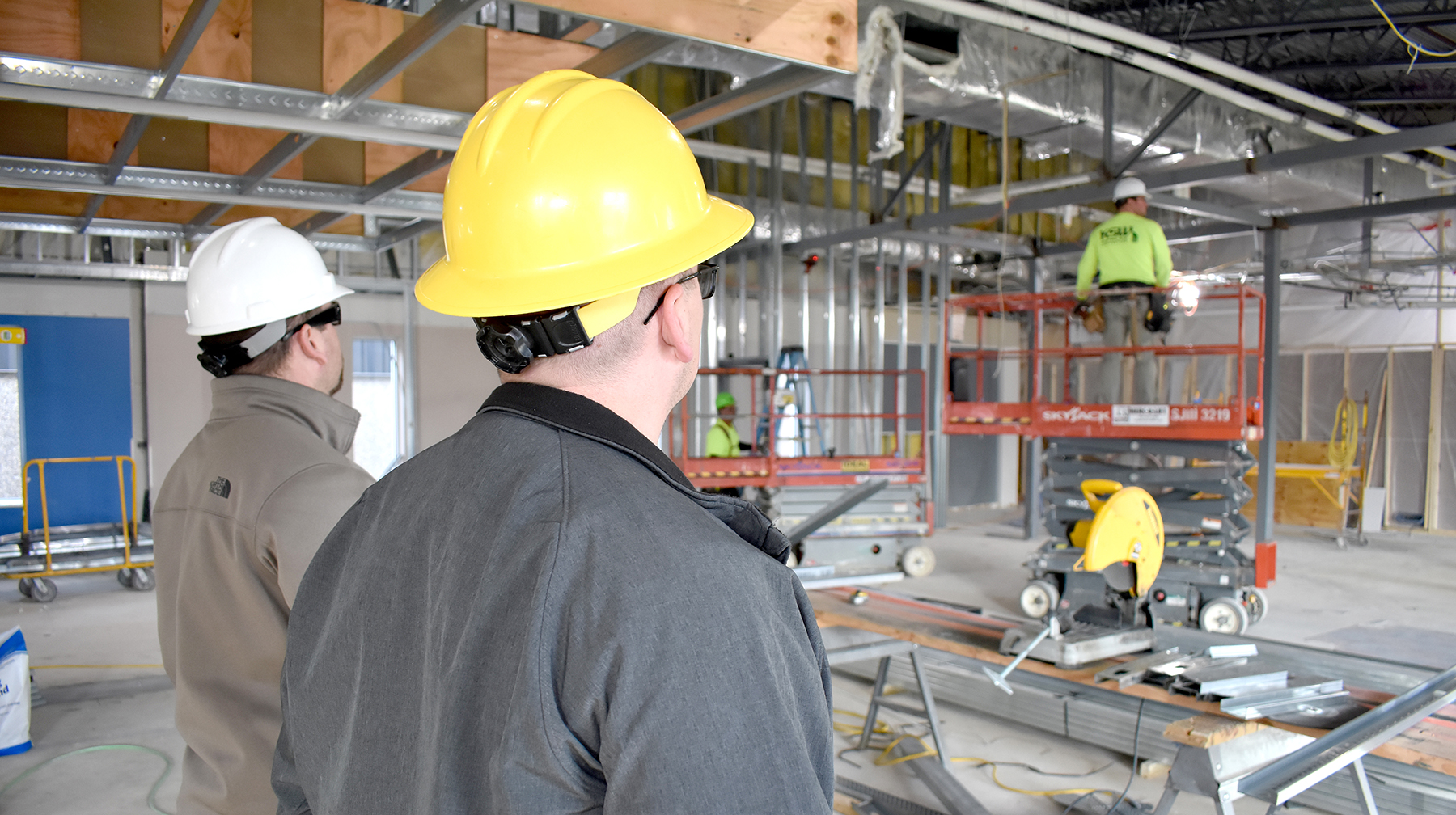 In an effort to better serve students, Southwest Wisconsin Technical College will move its bookstore into a new space, which is currently undergoing renovations. The project began two years ago when a work group was established to study students' costs and resources. "It is the college's priority to reduce course resource costs for our students," said Kelly Kelly, director of Fiscal Services/controller and a member of the work group. "Having the bookstore by the front entrance will keep it top of mind and we will be expanding our offerings to hopefully supplement the revenue as we reduce the course costs for our students."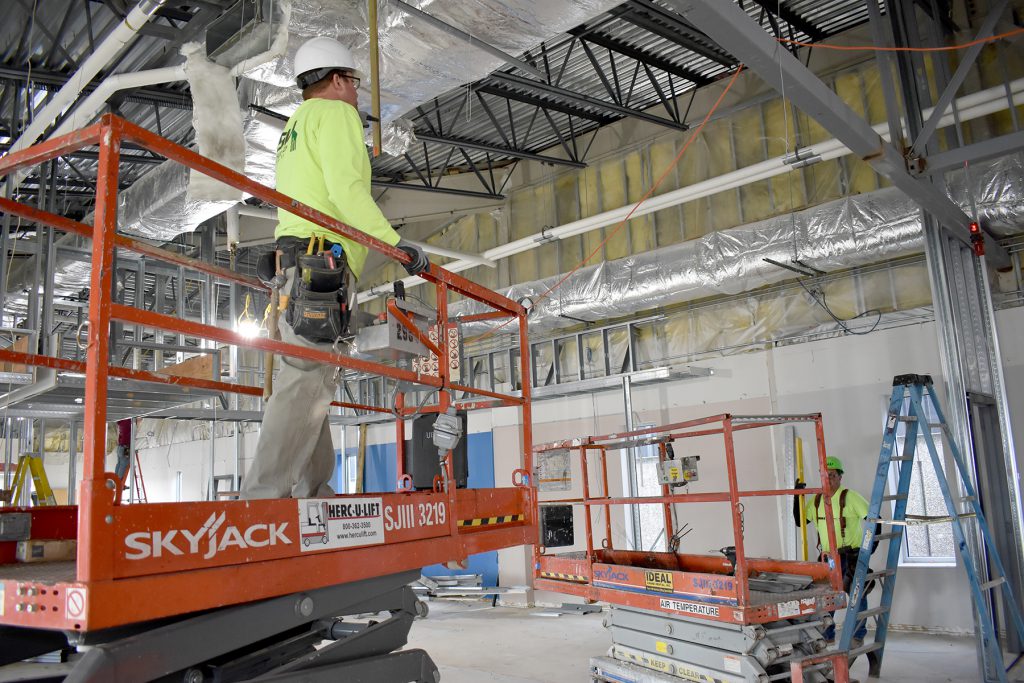 The bookstore is currently located adjacent to the cafeteria, near the rear of the College Connection building. The new location will greet visitors as they enter the main entrance to campus in the College Connection building. It will be near the Student Services and Financial Aid/Business offices. "We want to be a convenience-type shop, for students and staff," said Kelly. "We hope to supplement some students in housing, so we can have those convenience items for them, especially if they don't have transportation."
"We are excited for the new bookstore," said Dr. Jason Wood, Southwest Tech president. "Many faculty and staff have created an exciting design which will improve our services to our students and the community alike."
The bookstore's retail area will not include any books. Instead, all books will be in the back of the store, behind a wall.  "We will have a pickup window and pull books for students," said Kelly. "Ideally, students will place web orders ahead of time and can just come to the pickup window to get their books. Students currently utilize web ordering, but this will be a big push for us to the students to make course resource ordering very convenient."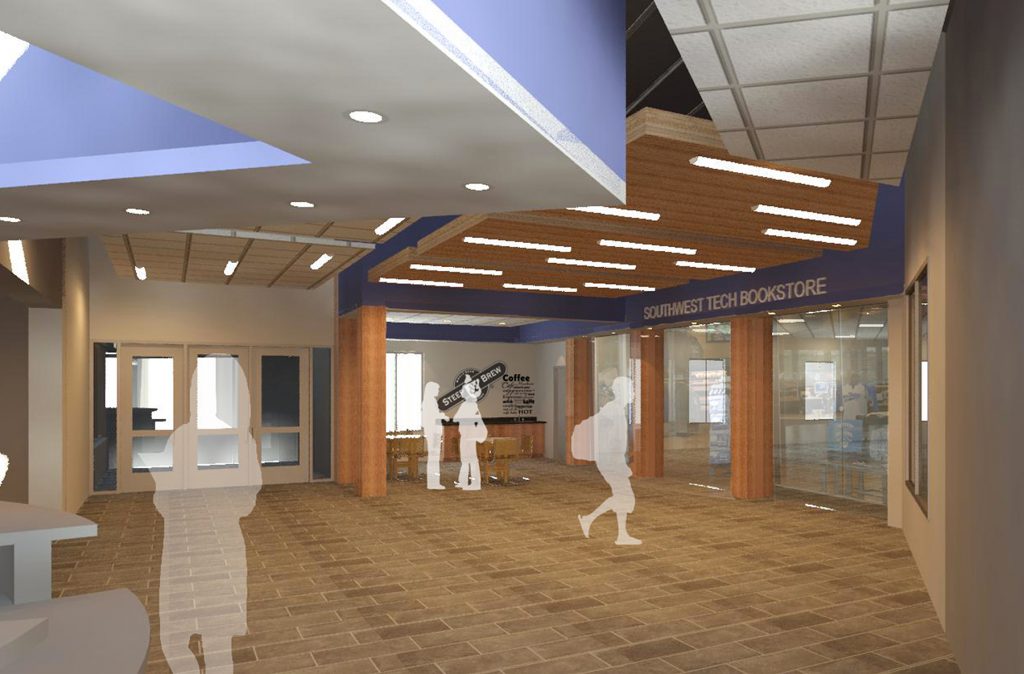 Students will see a more streamlined approach when the new bookstore is completed. "By helping each student with their order in an orderly fashion, we can recommend cost saving options on an individual basis," said Jen Fonder, bookstore resource coordinator. "We will also have a much more modern retail experience."
The bookstore will offer more than books, as well. "We will be diversifying our merchandise to fill needs of a wider campus and community member base," said Fonder. "Some of the new lines include self-care, home goods, more electronics, student and staff apparel, etc."
Some programs have adopted ebooks, resulting in the need for fewer textbooks. "The big push this year is OER (Open Educational Resources), which are free to students," said Kelly. "A couple instructors have adopted and several other instructors are investigating the implementation of OER."
As for the actual renovation of the new bookstore space, campus officials are planning for the space to be operational by spring graduation ceremonies on Friday, May 15 and Saturday, May 16.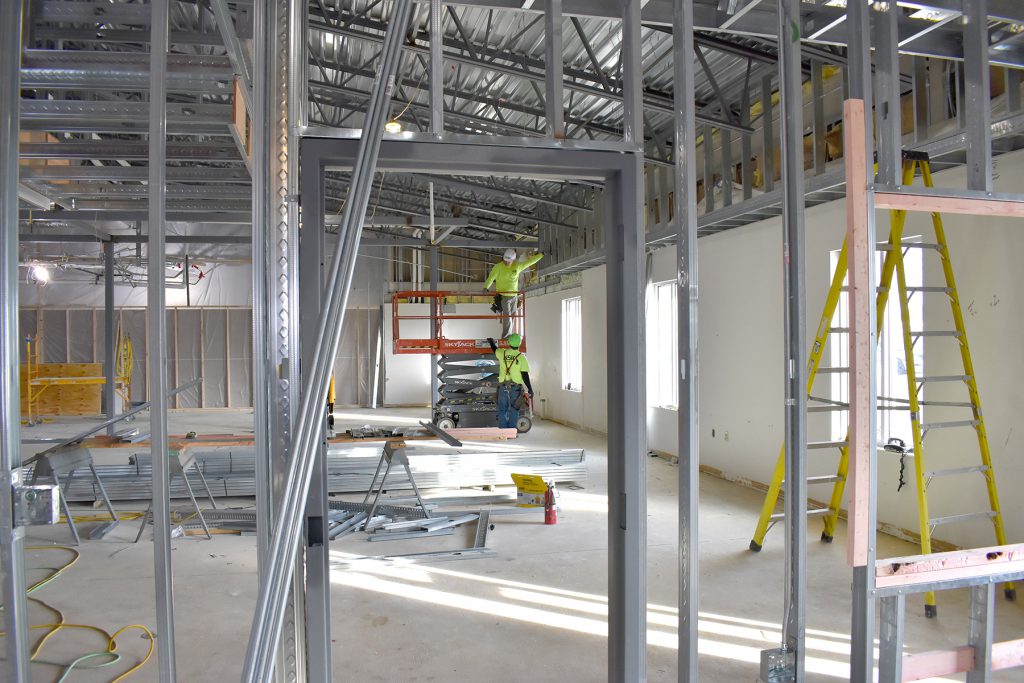 "We are on schedule," said Dan Imhoff, director of facilities, safety and security. "We are looking at substantial completion May 1, which will give us two weeks to get everything in and running."
KSW Construction, Verona, Wisconsin, is the general contractor for the project. The cost of the project is projected at $500,000.
According to Imhoff, the demolition and framing are complete. The crew is currently installing mechanical and electrical components.
"We are going to create that welcoming, really cool entrance that hopefully all stakeholders appreciate, not just students," said Imhoff. "It will be something that everyone can be proud of when they walk into the building."
The current bookstore space will be renovated into conference room space, with the addition of a buffet line thanks to its proximity to the campus café and cafeteria.
With the construction in full force, the anticipation of the new bookstore is garnering positive feedback. "The bookstore is currently a place you only came to on purpose due to its location," said Fonder. "Our new location allows for much more foot traffic without having people go out of their way to find us."
The bookstore renovation is also part of a 10-year facilities plan. Campus officials gathered input from all major stakeholders and Imhoff reviews the plan annually. "We learned three years ago that we needed to do a lot of internal remodeling," he said. "One was the bookstore. Right now, we are looking at a couple other projects, including the Lenz Center, the cafeteria, Dining Services, all spaces that need to be upgraded. We have decided to do that in a tiered approach."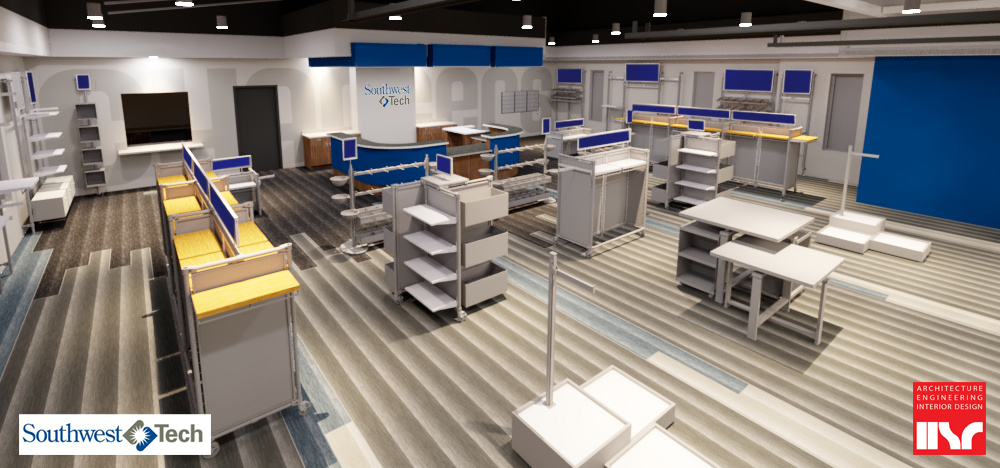 | Southwest Wisconsin Technical College is one of 16 institutions that comprise the Wisconsin Technical College System. Southwest Tech offers more than 60 programs in a wide variety of disciplines. Courses are offered on campus, online and in a blended format. The college provides apprenticeship, certificate, technical diploma, and associate degree programs that respond to district workforce needs and prepare student for family-sustaining jobs and career advancement. |