For Immediate Release
Contact: Daniel Wackershauser, Marketing Specialist
Phone: 608.822.2303
Email: dwackershauser@swtc.edu
Mail: 1800 Bronson Blvd., Fennimore, WI 53809
Date of Release: July 1, 2019
Southwest Tech celebrating Culinary Arts Month
Fennimore
-
From main courses to desserts to gourmet dining, professional cooks and chefs dedicate their careers to pleasing the palate. As a way to celebrate their contributions and passion, July is designated as National Culinary Arts Month. Southwest Tech offers a robust culinary arts program, coupled with a culinary management program.
The culinary arts program provides training in all aspects of food preparation and production, and helps students acquire skills, ranging from advanced food preparation techniques to food management. Students learn the skills needed to be successful in this dynamic and evolving industry, including nutrition, catering essentials, decorative foods, wines, baking, and gourmet dining.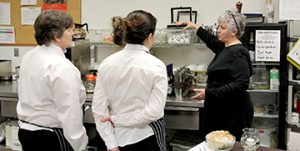 Following graduation with an associate's degree, students can begin their careers as a chef, sous chef, lead cook, purchasing agent, chief steward, among other opportunities.
Jeff Dombeck and Karen Bast lead the culinary arts and culinary management programs at Southwest Tech. "Culinary arts is one of those things, that there's so much to learn, and there's always more to learn all the time," said Dombeck.
In addition to hands-on, academic work, students have several opportunities to impress actual customers. "We serve the general public for a few of our classes where people from outside the organization or within the organization can come in and dine with us," said Bast.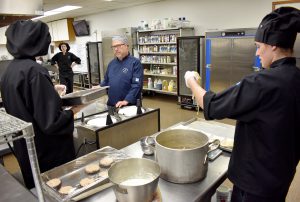 Throughout July, Southwest Tech will be recognizing its culinary arts students and alumni who have gone on to accomplish great things in their careers. Check out the college's Facebook page and YouTube channel for updates.
For more information about the culinary programs at Southwest Tech, visit swtc.edu/culinary.