For Immediate Release
Contact: Daniel Wackershauser, Marketing Specialist
Phone: 608.822.2303
Email: dwackershauser@swtc.edu
Mail: 1800 Bronson Blvd., Fennimore, WI 53809
Date of Release: July 2, 2019
U.S. Army Golden Knights impress in return to campus
Fennimore
-
The sun was shining brightly as hundreds of people gathered at Southwest Wisconsin Technical College in Fennimore, Wisconsin on Tuesday, July 2. The crowd was there to see the featured attraction, the U.S. Army Golden Knights Parachute Team. It was an opportunity to honor all veterans, as well as military personnel during this July 4 holiday week.

"At Southwest Tech we value our role in the community and this event was a perfect way to show our gratitude to our veterans and military members," said Katie Glass, executive director of marketing at Southwest Tech. "The Golden Knights put on an excellent show again this year. This couldn't have been possible without all the volunteer support from the college personnel, the assistance from the city and all of the emergency service agencies."
As part of the day's activities, Dick Lofthouse, Sr., an Army and National Guard veteran, as well as a retired Fennimore dentist, was presented with a special Golden Knights baton that was used in the day's jump. After 28 years in the Army Reserve, he retired with the rank of brigadier general.
Lofthouse began his dental career in Fennimore, opening the Lofthouse Family Dentistry practice in 1984. He was called to active duty twice, having to leave his practice for several months each time. After a long career, he sold his business and retired in 2014.  He and his wife, Sandy, still live in Fennimore, and spend winters in Florida.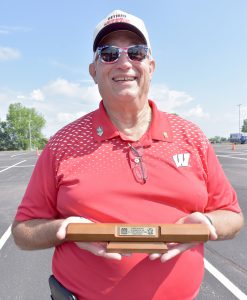 Following the jump on the west side of campus, an Iowa National Guard Chinook helicopter landed as well. Children were able to meet members of the Golden Knights, practice packing their parachutes and get autographs from their Army heroes. There was also face painting, free miniature flags and sunglasses, a climbing wall provided by the Wisconsin Army National Guard, emergency vehicles from various local public service agencies on display, as well as other activities for the attendees. The Fennimore Fire Department wives provided a food stand. All veterans and active military personnel received a can cooler and free lunch.
The Golden Knights' roots can be traced to 1959 when 19 Airborne Soldiers from various military units formed the Strategic Army Command Parachute Team. At the time, its intent was to compete in the new sport of skydiving. In 1962, the team earned the nickname the "Golden Knights." "Golden" referred to the gold medals the team won in competition, while "Knights" referred to the team's ambition to conquer the skies. Throughout the years, the team has conducted more than 16,000 shows in 50 states and 48 countries.