Alumni Spotlight: Elisabeth (Liz) Lease-Taylor
ELISABETH (LIZ) LEASE-TAYLOR
Mother of 10 month old daughter, Hadley. Wedding planner extraordinaire. Southwest Tech Medical Laboratory Technician program graduate.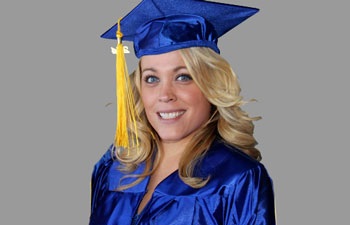 Shortly after attending Southwest Tech for marketing, Liz realized she was looking for something else. She decided to enter the healthcare field and started by getting her Certified Nursing Assistant (CNA) certificate.
"I went on to nursing school at Edgewood, but didn't like it as much. I knew I wanted to stay in healthcare so I checked out my options at Southwest Tech. The Medical Laboratory Technician program looked interesting and I had an idea of what it would be like since I had worked at both UW and Meriter hospitals in Madison."
While in the program, Liz had a busy life to juggle. She took a short leave when her now 10-month-old daughter was born, was in the process of planning a wedding, and was working.
"Southwest Tech is such a great school. Everyone is accommodating and helpful. They really want each student to succeed. I loved the small class sizes. It was awesome getting to know everyone and we are all good friends now. It was great that we were able to encourage each other and help each other when needed, we really became our own little family."
Liz just accepted her first job as a Medical Lab Technician with UW Clinics in Madison, as of May 29, 2014, passed her state boards, and a few weeks later said "I Do" to the love of her life, Ben. She plans on enrolling online to get her bachelor's degree through the University of North Dakota to take advantage of her new employer's tuition reimbursement program.
From everyone at Southwest Tech, congratulations Liz!