Student Spotlight: Sarah Mueller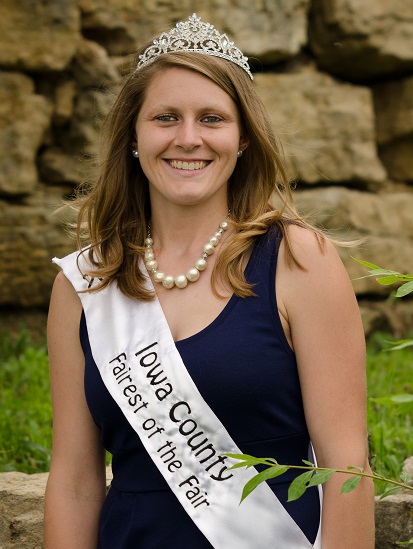 Winona State University graduate. 2014 Iowa County Fairest of the Fair. Physical Therapist Assistant program student.
When Sarah graduated from Iowa-Grant High School in 2009, she knew that she liked helping people and had a passion for the healing and progress that can be made through physical therapy. She enrolled in the Movement Science program at Winona State University, received her bachelor degree, and got accepted to a Doctor of Physical Therapy program.
"I did everything just right. I maintained an excellent GPA, I did well on my GRE exam, I was active in clubs on campus, I applied to Physical Therapy schools, and I applied to Physical Therapy Assistant schools as a backup plan. I even got into Doctor of Physical Therapy School."
As a Rewey, Wisconsin native that grew up on a large calf/cow operation, meeting individuals from the twin cities really opened Sarah's eyes.
"While in Winona, I met a lot of people who had no experience with agriculture. It sparked a passion in me. Agriculture had always been part of my life. I decided to become an advocate for the importance of agriculture and want to educate people about the economic impact of the agriculture community."
Sarah turned down the opportunity to go to physical therapy school and enrolled in the Physical Therapist Assistant program at Southwest Tech.
"I was burnt out and missed my family. I wanted to get back to the agriculture community and I could not justify spending thousands and thousands of dollars on school and countless hours of classes and studying. I love the sense of community at Southwest Tech. The Physical Therapist Assistant program is like a little family within this close-knit Southwest Tech community. I also have a great appreciation for the way Southwest Tech gives back to the communities they serve. There is a wonderful sense of always going above and beyond for your neighbor."
Sarah has followed through with her goal of providing agriculture advocacy and has recently been crowned 2014 Iowa County Fairest of the Fair.
"I have always loved everything about the fair – showing animals, being on the judging team, and especially the friendships that are made. I really wanted to give back to the fair board and the fair community for all of the opportunities they gave to me through my participation in the fair. I am excited and look forward to meeting everyone at all of the events."
Sarah encourages everyone to attend the Iowa County Fair August 28 – September 1 in Mineral Point, Wisconsin. She will also be making numerous appearances around Southwest Wisconsin, including the Livingston State Bank and Iowa County Cattleman's Association steak feeds. Stop by and get a personalized photo taken with her.