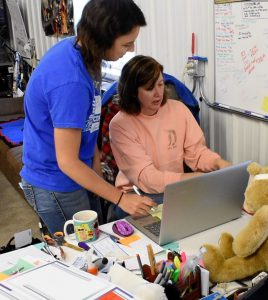 Morgan Emery is well on her way to adding more value to her family's custom pinball business in Benton, Wisconsin. She recently completed the first year of the two-year supply chain management associate degree program at Southwest Wisconsin Technical College in Fennimore, Wisconsin. "I chose Southwest Tech mostly because of the affordability and because of the fact that I could get a supply chain degree in two years," she said.
Morgan is working full-time at Spooky Pinball, which was founded by her dad, Charlie, and is currently operated by him and her mom, KT, along with a staff of approximately 10.
She chose supply chain management because she wanted to learn the skills necessary to enhance the family business. "I want to learn as much as I can to help them (parents)," she said. "Jumping into a new business can be scary so any help you can get is great."
"She's helped me a lot," said KT.
"I would describe KT and I as hard working, but not organized," said Charlie. "Morgan is helping us get the organized side down, so yeah, it's been a huge advantage."
"I love putting things in order," said Morgan. "I love the numbers. I love all of that, so the fact that I get to implement that here and help out my family is great. I love it."
With one year completed and one year remaining, Morgan is confident that she made the correct decision. "I was really glad I chose this program," she said. "My instructors are amazing. Doris Pulvermacher is the best teacher I've probably ever had. She makes learning fun."
To learn more about the supply chain management program: https://www.swtc.edu/academics/programs/business/supply-chain-management