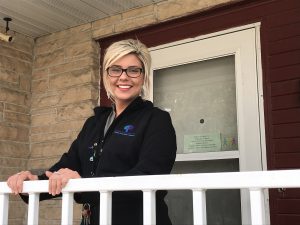 Name: Maria Greenwood           
Hometown: Fennimore, Wisconsin
Graduation date: May 19, 2018
Area of study: Human Services Associate
Place of employment: Family Advocates, Inc. – Platteville, Wisconsin
Job responsibilities: Sexual Assault Outreach Advocate
How did Southwest Tech prepare you for your current position? My Interviewing and Counseling class, as well as each psychology class helped prepare me for this field of work. Learning how to actively listen and provide appropriate feedback to others allows me to be successful in this field.
Why did you choose your current field? I chose this field because I'm passionate about being a support system for an individual and or families. I love helping people discover their own strength and successes.
What advice would you have for younger students who are thinking about their future? My advice would be to keep your minds open to different career paths and or opportunities. Don't punish yourself for not knowing what you want to do with your life right away. Job shadow, research, look into fields you wouldn't normally. You might discover a hidden passion of yours that you could thrive at!