Christine Klais. Mom Of 20 Year Old Ben, 18 Year Old Kevin, And 11 Year Old Nick. Newlywed. Online Health Information Technology Student. Student Ambassador.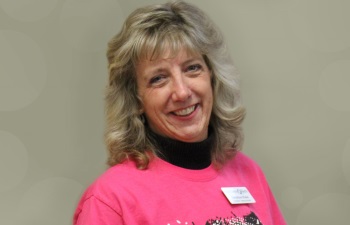 Christine Klais has always had a love for people. She is passionate about helping others take care of themselves and reach their full potential. She also enjoys working with computers. In the 1980s, Christine received her Associates degree in Computer Programming/Operations. Christine went back to school in 2010 to become a Licensed Practical Nurse (LPN).
"I was a clinical LPN for over three years. It was such a great job and I loved the people I worked with."
Christine was recently married and moved to Stitzer, Wisconsin to live with her new husband. After a little bit of searching, Christine realized a career as a clinical LPN was not available here.
"I could have started as an LPN in a nursing home, but I know I would have been settling for less. At a nursing home you have to work holidays and long hours. With three boys at home, I was not ready for that commitment."
Christine has always enjoyed working with computers and training others with one-on-one attention. She realized that the Health Information Technology program at Southwest Tech would combine her two degrees perfectly. Providing information to doctors and helping others will be a natural step in Christine's career.
"It was a hard decision to come back to school again. I started in the program a week late and online classes were new to me. The transition was overwhelming, but it was do-able. I kept asking myself if I was really doing the right thing, but somehow I knew there must be plans for me and this was the first step."
As an LPN, Christine did many different tasks without fully understanding the reasoning behind them. Now, she is learning the other side of the healthcare industry and everything is coming together in her mind. It all makes sense.
"My past career choices have really prepared me for this chapter of my life. A lot of the terms I'm studying are familiar to me, which makes the classes much easier."
Christine is finding that balancing kids, classes, a new husband, new grandkids, and the move can be a challenge. With online classes, she can choose when she wants to learn and how involved she wishes to be with discussions. Even though all of her classes are online, the teachers are available whenever she has a question.
"When I first visited Southwest Tech, I absolutely fell in love with the place. There is this feeling of being connected here that you don't get everywhere. When I talked with the instructors, I was so impressed with how passionate they are about their students and about what they teach. I wanted to be part of it."
After graduation, Christine would like to work in a local hospital in Health Information Technology and eventually become a director.