Health information technology management (HIT), is the practice of acquiring, analyzing, and protecting digital and traditional medical information. The health care industry depends on electronic information systems. As health data becomes more digitized, opportunities are created for trained health information technicians with the skills and knowledge to collect, analyze, monitor, maintain and report health data according to established data quality principles, legal and information security standards and professional best-practice guidelines. The Health Information Technology program will prepare you to become an expert in patient health data management.
What Does a Health Information Technician Do?
Are the guardians and gatekeepers of the most important tool in modern health care – the medical record.
Ensure that patient's histories are accurate, complete, up-to-date, and properly entered into the clinical database.
Keep careful logs of patient histories, diagnoses, treatments and procedures.
Understand workflow in all size healthcare settings, from large hospital systems to the private physician practice.
Play vital roles in the daily operations of health information management and electronic health records (EHR) at almost every point in the healthcare delivery cycle.
Ensure an organization has the right information on hand when and where it is needed.
Maintain the highest standards of data integrity, confidentiality, and security.
Why Choose Health Information Technology?
The program is 100% online (with the exception of professional practice experience (PPE), and was created with the working adult in mind.
Health information technology is one of the fastest growing occupations in the U.S. according to the Bureau of Labor Statistics.
You will become a critical member of the healthcare team.
No needles - you will work behind the scenes in the healthcare system without ever having direct patient care responsibilities.
See why students chose to become health information technicians by viewing real HIT/HIM stories.
Is This Program for You?

Are you interested in the business and technology aspects of healthcare? Are you detail-oriented and enjoy science, management, law, and computers? Health Information Technology may be the career choice for you.

Students entering the Health Information Technology program should:

Be interested in working in health care, but not directly with patients.
Be interested in business and technology.
Be detail oriented.
Have an aptitude for science, but also like management, law, and computers.
Enjoy working with professionals: physicians, nurses, lawyers, administrators and executives.
Want a career where you can choose to work on your own, with others, or some of both.
Have a strong knowledge of medical terminology.
Employ good critical thinking and communication skills.

Program Basics

All courses offered online allowing for 100% flexibility, with the exception of professional practice experiences (PPEs).
Financial aid is available to those that qualify.
August or January program start date.
Students must achieve a grade of C or better in each course of the program curriculum to be eligible to progress.
Flexible, sequenced credential training starts with a Medical Coding Specialist Certificate (first year)
Second year leads to Associate Degree in Health Information Technology Management.
Credits transferrable for a Bachelor's degree in Health Information Management.

Related Degrees

Cost of Attendance (COA) 23-24

Cost of Attendance (COA) is a total of all the usual expenses of being a student. The COA sets the maximum amount of financial aid a student can receive.

| Category | Amount |
| --- | --- |
| Tuition and Fees | $4,713 |
| Living Expenses (Housing and Food) | $9,614 |
| Books and Supplies | $2,061 |
| Personal Expenses | $2,245 |
| Transportation | $2,007 |
| Charger Tech 360 Fee | $600 |
| Loan Fees | $83 |
| Yearly Total (Living Away from Home) | $21,323 |
| 1 Semester Total (Living Away from Home) | $10,662 |

Based on Wisconsin Residents.

Approximate school costs are for a full-time (12 credit) student over a semester span of 17 weeks.

Fees are legislated by the Wisconsin Technical College System Board.

These costs are estimates and are subject to change without notice.

Admission and Program Requirements

To make sure your classes are the right fit, we consider any previous college credit you've earned, Accuplacer or ACT scores, high school GPA, or an assessment at your registration session. Submit High School Transcripts, College Transcripts, and Test Scores to: Southwest Tech, Attn: Admissions, 1800 Bronson Blvd, Fennimore, WI 53809
Admissions Meeting: After applying and submitting transcripts, make an admissions meeting with the advisor by clicking "Make an appointment" in the Advisor block on this page.

Requirements for Online Students

Chromebooks are not compatible with some testing features within Schoology (our Learning Management System). Southwest Tech recommends not to use Chromebooks for classes.

Cable/broadband/DSL internet with a minimum speed of 1.5Mbps. You can test your local internet speed at www.speedtest.net. Run this test from the location you will be working from.

Higher bandwidth and speed will greatly assist you in your online learning environment, so where possible, a faster internet speed is recommended. Cable internet tend to be faster than DSL or 4G wireless, although DSL or 4G wireless may also work depending on other factors. Your computer, other software (such as anti spyware), other users on the system, and system configurations can all influence your ultimate line speed. Many instructors use videos as a part of their instruction, as well as synchronous meeting times (Skype, Adobe Connect, etc). Having an acceptable internet connection speed will be important to your success.

Convenient access to a computer that has one of the following current versions of Internet Browsers:

Microsoft Internet Explorer
Mozilla Firefox
Google Chrome
Safari

Call 608.822.2302 for verification of other browsers.
An active e-mail account (all Southwest Tech students are issued a free email account)
Word processing software (Microsoft Word is the recommended word processing software at Southwest Wisconsin Technical College). Free Microsoft Office software is available to all Southwest Tech students at https://www.microsoft.com/en-us/education/products/office
Availability of 10-15 hours per week for each 3-credit course
Self-motivation and self-discipline

Helpful Academic Background

Keyboarding and basic computer skills
Biological Sciences

Program Fees

This program is eligible for Financial Aid.
Estimated cost for each semester can be found under the Curriculum tab. Please note that costs are approximate and are based on the current academic year.
Please discuss additional fee questions with the program advisor or instructor.

Employment opportunities for Health Information Technology include:

All health care facilities such as: hospitals, clinics, nursing homes, surgery centers, insurance companies, consulting companies, government agencies, computer software companies and other health care settings. Possible employment for program graduates may include:

Outpatient Coder
Inpatient Coder
Medical Coding Specialist
Coding Analyst
Claims Analyst
Patient Care Coordinators
Patient Registrar
Benefits Coordinator
Medical Biller
Collections Clerk
Insurance Claims Clerk
Customer Service Representatives
HIM Revenue Cycle Auditors
Document and Coding Specialists
Coding Specialist
Health Information Technicians
Medical Office Administrators
Clinical Data Analyst
Compliance Auditors

Southwest Tech's Career Connections Center offers Services to assist students looking for job placement.

Credit for Prior Learning

Experience Pays! You've Been There... You've Done That... Let's See If You Can Get Credit For It!

Credit for prior learning gives you opportunities to earn credit for college-level knowledge that you have already acquired. This may be the result of work or volunteer experiences, certifications, apprenticeships, military training, extensive self-instruction, or professional development. Credit for Prior Learning affords you the opportunity to accelerate the completion of your educational goals.

For more information on Credit for Prior Learning see our Credit for Prior Learning page.

At any time, you may Request Credit for Prior Learning.

Health Information Technology Courses that may have Credit for Prior Learning options:

Course #
Course Title

Challenge Exam
(Demonstration)

Challenge Exam
(Standard)

10-501-101
Medical Terminology
Available online
10-501-107
Digital Literacy for Healthcare
10-530-161
Health Quality Management
10-530-162
Foundations of HIM
10-530-163
Healthcare Stats and Analytics
10-530-164
Intro to Health Informatics
10-530-165
Intermediate Coding
10-530-167
Management of HIM Resources
10-530-178
Healthcare Law & Ethics
10-530-182
Human Diseases for Hlth Profes
10-530-184
CPT Coding
Current Certified Professional Coder (CPC) or Certified Coding Specialist - Physician Based (CCS-P)
10-530-197
ICD Diagnosis Coding
Current International Classification of Diseases - 10 (ICD-10), Certified Coding Specialist (CCS) or Certified Professional Coder (CPC)
10-530-199
ICD Procedure Coding
International Classification of Diseases - 10 (ICD-10) or Certified Coding Specialist (CCS)
10-801-195
Written Communication
College Composition CLEP test would also be accepted for credit. However, the challenge exam is the preferred method.
10-801-196
Oral/Interpersonal Communication
10-809-172
Introduction to Diversity Studies
10-809-198
Intro to Psychology
CLEP Test - Introduction to Psychology
Outcomes
Program Outcomes
Apply data governance principles to ensure the quality of health data
Apply coding and reimbursement systems
Model professional behaviors and ethics
Apply informatics and analytics in data use
Apply organizational management techniques
Health Information Technology Student Achievement Data
Student achievement/outcomes (2021-2022)
Employment in related field:

90% of graduates were employed in related field for 2021-2022.

Retention Rates:

62.5% retention rate for students.

Course Completion Rate:

57% (in normal time for program completion, 24 months for Full Time students or 30 months for Part Time students)
Respectfully submitted by:
Jennifer Lame', MPH, RHIT – HIT Program Director
Kim Maier, Executive Dean
Revised April, 2023
Accreditation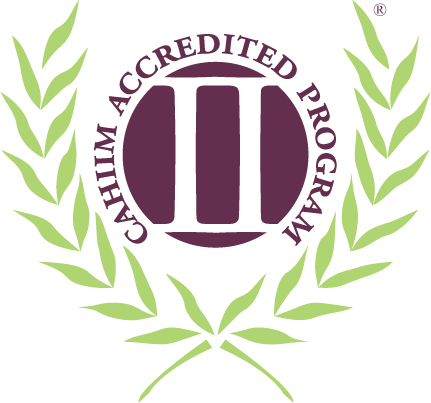 The Health Information Technician program accreditor of Southwest Wisconsin Technical College is the Commission on Accreditation for Health Informatics and Information Management Education (CAHIIM). The College's accreditation for Associate degree in Health Information Technician has been reaffirmed through 2028-2029. All inquiries about the program's accreditation status should be directed by mail to CAHIIM, 200 East Randolph Street, Suite 5100, Chicago, IL, 60601; by phone at (312) 235-3255; or by email at info@cahiim.org.