Opposing Opinions. Strong Emotions. High Stakes.
Dialogue and accountability skills are foundational to inclusive and engaged workplaces. With remote teams, political and social sensitivities, and an ongoing pandemic, Courageous Conversations skills have never been more relevant. This unique offering teaches hard-hitting skills and techniques drawn from the research of Crucial Conversations and Dare To Lead™ taught by certified facilitator, Kate Adametz Jenkins, who brings over a decade of experience teaching, practicing, and coaching leaders and teams how to navigate hard conversations with courage and confidence.
Our certified Dare to Lead™ facilitator, Kate Adametz Jenkins, brings decades of experience, humor, and heart to her work. She helps people develop the practices necessary to navigate with courage and lead in an increasingly complex world. This training introduces:
This training can help:
Colleagues talk about touch stuff, despite distance
Leaders discuss performance directly and respectfully
Teams reach agreement around hard decision
Individuals bravely approach conflict with authenticity

Participants will:
Identify their conflict styles and offloading strategies
Learn skills for engaging in dialogue and cultivating courage
Recognize go-to narratives and ho to re-write new ones that align with the goal
Pinpoint and focus on their goal
Upcoming Class Dates
Friday, November 11, 2022
8:30am-12:30 pm
$225/person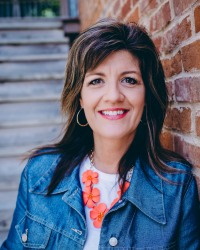 Kate Adametz Jenkins is a Talent Development Professional with over 20 years of experience. In 2009, she earned her Professional Coaching Certification through the International Coach Academy and became an internal leadership and development coach along with starting a private coaching practice working with professional women on striking balance in career and life.
A skilled facilitator, she regularly trains Crucial Conversations® and Crucial Accountability™ curricula. In 2019 she was trained by Brené Brown as a Certified Dare to Lead™ Facilitator.
Those who work with Kate report gaining fresh perspective, empowerment and a partnership that delivers results.