Southwest Tech Dairy Goat Academy
The Dairy Goat Academy is an annual two-day event that will provide break-out sessions, farm tours, and hands-on training relevant to commercial dairy goat operations today. Plan to attend one or both days to fine tune your farm management skills and network with industry experts and leaders.
Save the date for this year's academy: November 3rd & 4th, 2017
Complete the form to the right to ask questions or receive updates.
Day 1: SWTC Dairy Goat Academy Schedule
8:00 AM
Registration
9:00 AM
Wecome to Keynote Presentation: Goat Industry Worldwide
10:00 AM
AI Course-MVZ
Jose Oliveros and Barry Mitling

Maximum seats available - 25
FSA Programming
FSA Staff
Organic and Non GMO Q and A
Montchevre
Stock Selection
Dan Considine
11:00 AM
Learning True Cost of Production
Larry Tranel
Selling your Farm/Herd
Joy Kirkpatrick
ADGA Programs for Commercial Herds
Dan Considine
12:00 PM
Lunch Sponsored by Montchevre
1:00 PM
AI Course
Chester High Farm Tour

(Limited seats available, sign up when you register on site.)
Stock Selection
Dan Considine
Social Media and Ag: How to Make it Work for You
Betsy Tollefson
2:00 PM
Dairy Goat Genetics
Mariana Marques de Almeida
3:00 PM
Vendor Fair/Cheese Social
4:00 PM
Selling your Goats
John Kammes
Licensing and Selling Your Products
DATCP Staff
Day 2: SWTC Dairy Goat Academy Schedule
8:00 AM
Registration
9:00 AM
AI Course
Cheese Making 101
Anne Topham
Milk Testing
Dr. Tera Montgomery
Selecting Forages
Morgan Allen
10:00 AM
Selecting Forages
Moragen Allen
Common Goat Diseases
Dr. Vicky Lauer
11:00 AM
Common Goat Diseases
Dr. Vicky Lauer
Business Planning
SWTC Farm Business Staff
Selecting Milk Replacer
Morgan Allen
12:00 PM
Lunch: Trends and Needs in the Dairy Industry
1:00 PM
AI Course
Diamond Grove Goat Dairy Aron Cooley Farm Tour
(Limited seats available, sign up when you register on site.)
Milk Quality
Jeff Dornink
Financial Record Keeping
SWTC Farm and Business Staff
2:00 PM
Goats and the Vet Feed Directive
Vicky Lauer
Facility Planning and Design Process
David Kammel
3:00 PM
Alternative Income Panel
Jason Heberlein, Jason Bennet, Cindy Hoehne, Terry Groth
Essential Oil Uses for Goats
Briana Hess
Certificate Information
The Southwest Tech Dairy Goat Herd Management Certificate is a non-degree certificate that includes the following components:
11 online courses
A two-day annual Dairy Goat Academy providing hands-on training
120-hour mentorship program
An experienced producer or novice goat farmer can enroll in the certificate to fine tune their farm management skills and gain the knowledge to support a full-time commercial dairy goat operation. A student may choose to take just one course or the whole certificate. The courses average 5 hours in length and can be taken anywhere! The student will gain skills needed to begin, maintain, manage, and profit from a commercial dairy goat operation. The program includes presentations from speakers of expertise offering their knowledge and experiences in the commercial goat industry.
Speakers of Expertise offering advice and knowledge
Courses completely online
Hands on academy and mentorship program
Earn a non-degree certificate in dairy goat herd management to develop your management skills to own and operate a dairy goat operation.
Courses – no application required!
Dairy Goat-Introduction to the Industry
Dairy Goat-Writing a Business Plan For Your Operation
Dairy Goat-Farm Records & Financial Management
Dairy Goat-Milking Facilities & Housing
Dairy Goat-Kid Management
Dairy Goat-Herd Health
Dairy Goat-Nutrition
Dairy Goat-Genetics & Selection
Dairy Goat-Reproduction & Breeding Program
Dairy Goat-Production Records & Analysis
Dairy Goat-Business Promotion & Marketing
120 Hour On-Farm Mentorship Program
40 Hours - Kidding Season split between 2 farms
10 Hours - Breeding Season
24 Hours - Milking Only
23 Hours - Student Choice
23 Hours - General Chores
Instructor: Clare Heberlein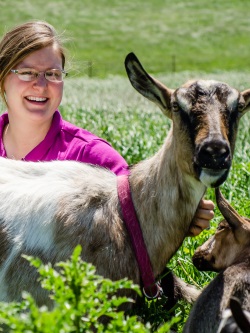 Dairy Goat Herd Management Coordinator/Instructor
608.822.2723
cheberlein@swtc.edu
Clare and her husband Jason and their growing family own and operate a commercial dairy goat operation outside of Fennimore, Wisconsin. The Heberleins milk 300 dairy goats in their custom made facilities since 2010. Clare has grown up with the goat industry. She began raising her herd of show Alpine does at nine years old. She still maintains that same show herd of goats and manages the herd health needs of their commercial operation. Clare and Jason have a passion for goats and the industry and can often be found promoting the goat in whatever way possible.
Certificate Sponsors
If you are interested in sponsorship opportunities, please contact the Southwest Tech Foundation at foundation@swtc.edu or 608.822.2362.