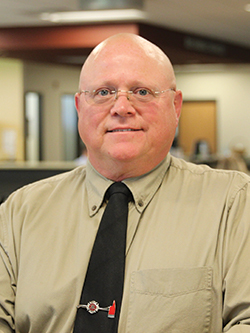 Phone: 608.822.2376

Toll Free: 800.362.3322, extension 2376

Email Brian
College Connection (Bldg 400), Room 465
Degrees / Certifications:
AA –Administrative Assistant, May 1998
Certified Firefighter II
EMT-IV-Technician
Emergency Services Instructor
Fire Services Instructor
Hazmat Technician
Confined Space Technician
Rope Rescue Team
Professional Organizations / Associations:
Grant County Firefighters Association
Wisconsin EMS Association
Wisconsin Fire Instructors Association
Job Duties:
Industrial Occupations:

Assist instructors with designing, facilitating, and revising activities that promote optimum student learning.
Assist with providing applications based learning activities that accommodate a variety of learning styles
Maintain orders and inventory of equipment and teaching supplies

Campus Safety Compliance:

Conduct Safety audits to identify pre-failure conditions; recommend preventive and corrective measures. Follow up with affected areas to ensure that these measures are put in place and maintained
Identify best practices and lead continuous improvement initiatives to reduce work process risks, raise safety awareness, and improve work practices in operational and academic areas.
I coordination with the Director of Facilities, manage the District's environmental management program including compliance with hazardous waste regulations and infectious waste disposal guidelines.
Conduct appropriate safety-related training for all staff.
Develop and manage training needs assessment to ensure compliance with state and local training requirements.
Maintain District compliance with standards established by the EPA, DNR, ADA, OSHA and other regulatory agencies. Complete all reporting requirements.
Work with Director of Facilities to develop and update all safety procedures, notices, alerts, bulletins and appropriate training materials.
Community Involvement:
Platteville Fire Department, Safety Officer / Training Officer
Platteville Emergency Medical Service, Crew Chief / EMS Instructor