The full menu is available 9am – 6pm Monday – Thursday, 9am – 4pm Friday
Ordering
There are two ways to order:
Order online through the Café app (use the button above)
This allows you to order ahead of time and the app will email or text you when your order is ready.
Place an order in the café with cash or credit card. (30 minute order time required on most items.)
Purchase Gift and eCards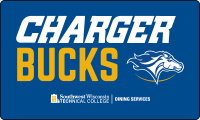 Purchasing gift or eCards is easy, and again, there are two options:
Purchase an eCard online by clicking the "Purchase a gift card" link at the top of the Café app (use the button above) and follow the directions.
Physical gift cards or eCards can be purchased in the café for cash or credit card
Southwest Tech Dining Services also offers catering for meetings, conferences and private parties.
We know we will learn a lot from trial and error, and your suggestions are appreciated. Please share feedback by emailing Dining Services Manager.