June 11, 2020

Southwest Tech is very excited to announce that the College will be offering laptops to eligible program students beginning this fall. The three academic deans led this project in close collaboration with Information Technology Services. The College issued a request for proposal last week with support from the Southwest Tech District Board and the Student Senate.

The deans all believe that the laptop program will provide Southwest Tech students opportunities to be successful in achieving their academic goals. By giving students access to the technology they need, they will have a standard set of tools to complete their programs, and afford portability and technology required and used in business and industry today. Progressive thinking and academic excellence makes Southwest Tech a leader in technical education and continued academic excellence.
See the Laptop FAQ page for answers to questions, including eligibility, about the Laptop Program.
How the laptop program works
For the 2020-2021 academic year, all students will receive a rebate for the technology fee. Next year, the 2021-2022 academic year, all eligible students will be charged a technology fee of $400 each semester. Two year program students will be able to keep the machine after two years. Short term program students will need to turn the hardware back in.
Students in 2-year programs will keep the laptop upon graduation after participating for at least 4 semesters in the laptop program.
Students in short term programs (less than two years) will turn the laptop back into ITS upon graduation.
To Get Your Laptop
Log into the Laptop Program Portal
If prompted, enter your Southwest Tech credentials (student username and password)
Eligible students should follow the instructions to receive your laptop by mail.
Shipping Date
Laptops are currently being shipped. See steps above for eligible students to have your laptop sent to you.
What students get through this program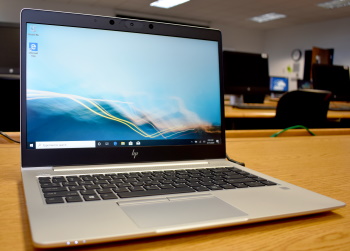 An HP EliteBook 745 G6 -Windows10 Pro64 will be shipped to each eligible student. Each laptop will come with a Targus Groove, with Southwest Tech's logo embroidered on the backpack.
Pre-installed software
Microsoft Office
Online data storage and automatic backup
Anti-virus
Videoconference software
TeamViewer-remote support software
Also, students will receive hardware support-accidental damage protection.
If you have feedback or questions not answered on the Laptop FAQ page, we encourage you to share them using the email form.