Student ID's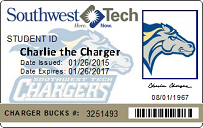 Need a student ID or Clinical Badge? Ask a library services staff member and they will assist you.
New Student ID Process:
All students are required to have a Southwest Tech Student ID Card in order to use services provided by the college. You can obtain your official Student ID (at no charge) at library services within the Knox Learning Center. To receive a Southwest Tech student ID, please provide a photo ID of one of the following: driver's license, state issued ID, High School ID, passport, Military ID, ID from another college or an Employment ID badge. Students without a government photo ID who wish to obtain a Southwest Tech ID, may provide one of the following that includes your name and address: Utility bill, bank statement, paycheck/stub, a check or other document issued by a unit of government. If your Student ID card has been lost, stolen or damaged, had a name change, a replacement card can be obtained for a $5.00 replacement fee. There is a $5.00 fee for all clinical badges.