Athletics
Southwest Tech has our own award-winning National Junior College Athletic Association (NJCAA) Golf Team!
Intramurals
Intramural sports are competitive, exciting and fun! There are many intramural sports available for students in which to participate, including softball, basketball, kickball, and volleyball. They're held every Tuesday night at Fennimore Elementary School (830 Madison Street).
Indoor / Outdoor Walking Trails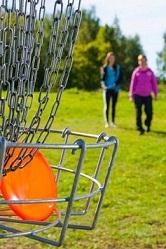 Do you want a quick, easy, way to stay in shape or burn off some steam? Southwest Tech has several walking routes available for your enjoyment! There is a one-mile indoor walking route inside the campus buildings that is ideal for cold or rainy days. If you enjoy the outdoors, there is an outdoor walking route at Southwest Tech as well.
Just across the road from campus is Oakwood Nature Park which has four different walking paths that you can do individually, or challenge yourself by doing them all as one long route.
Disc Golf Course
Fennimore and Southwest Tech have a wonderful 18-hole disc golf course available for students and community members. Located just across Highway 18 from campus behind the ball diamonds, it runs through the beautiful setting of the Oakwood Nature Park.
Fitness Center
The Fitness Center is free for all students and staff, and memberships are available for members of the community.
Located on the first floor of the Health Sciences Building (1600), the fitness center offers a wide variety of equipment, including treadmills, bikes, cross trainers, universal machines, dumbbells, kettle bells, an aerobics room with mats, DVDs, and exercise classes including Zumba and Yoga. Locker rooms with shower facilities are available, but there is no towel service.
Fitness Center users must fill out both a Release Agreement Form and a Health History Form and submit them to the Student Activities Coordinator (located in Charley's). You will receive an access key when the forms are approved.
Hours of Operation
Monday - Friday, 6:30am - 9:00pm
The Fitness Center is closed on Saturdays and Sundays, as well as any other day the campus is closed either academically or for weather-related emergencies.