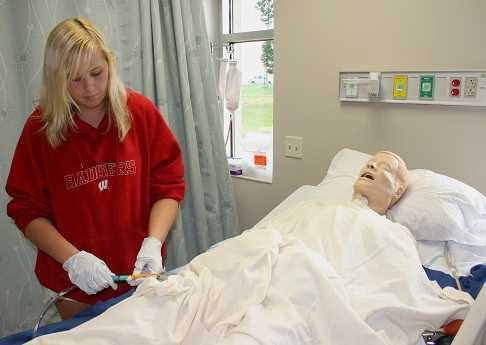 The Nursing Assistant program prepares an individual for employment as a nursing assistant in a health care facility or home health agency. This technical certificate program is offered in the fall, spring, and summer. Emphasis is placed on developing the knowledge and skills necessary to provide basic personal and nursing care. Students receive classroom and lab instruction as well as supervised clinical experience in a nursing home.
The nursing assistant is responsible for assisting a client with personal care, fluid and nutrition, mobility, and elimination needs. In addition to meeting physical needs, nursing assistants also play an important role in meeting the emotional needs of clients.
The Nursing Assistant Program is an opportunity to learn skills and prepare for a career in the health care field with less than a one-year or one full semester commitment. If you have a desire to help people, are comfortable working closely with clients while providing personal care, are willing to accept delegated tasks and to work as a member of a team, then a career as a nursing assistant may be for you. This field of work also serves as a stepping stone for advanced nursing or health care occupations.
The Southwest Tech Nursing Assistant Program is approved by the Wisconsin Department of Health and Family Services, preparing the student to be successful in meeting state and federally regulated competencies as a nursing assistant. The graduating student is eligible to take the National Nurse Aid Assessment Program Exam, which includes both a written and skills exam.