Apply for a Scholarship
The Southwest Tech Foundation is proud to offer scholarship opportunities to all current students in good academic standing that are enrolled in a minimum of 6 credits per semester.
Students with a documentable disability who are enrolled in less than 6 credits must have a plan on file with the Support Services Center.
Scholarships for the 2015/2016 school year will open on July 1, 2015. Check back to apply here online!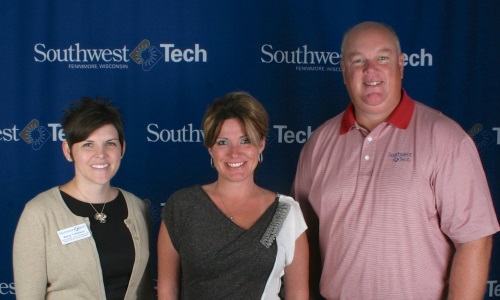 Betsy Tollefson, past Southwest Tech Foundation Director of Development; Tiffany Anderson of Monona, IA; Scott Kennedy, Southwest Tech Golf Course Management Instructor.
Tiffany recently established the Todd Patrick Scott-Big Bertha Scholarship for Golf Course Management Students in honor of her brother, Todd Patrick Scott.
The Southwest Tech Foundation has many generous donors who have established annual and endowed scholarship funds to help all kinds of students. Our donors come from many walks of life and have diverse interests. The donors establish the criteria we use to select recipients for their awards.
Scholarship awards range from $250 to $1000. In 2013-14 we awarded over $130,000 to 200+ students.
Supporting Materials Required with Application
Two Scholarship Recommendation Forms are required:

Forms can be completed online or printed and returned to the Foundation office.
Completed forms must be from someone not related to the applicant.
Only two forms will be accepted. If more than two forms are submitted, only the first two received will be accepted.

Students applying for the Child Care Scholarship must complete the Child Care Certification Form.
Frequently Asked Questions
View the Scholarship Frequently Asked Questions (FAQ) page.