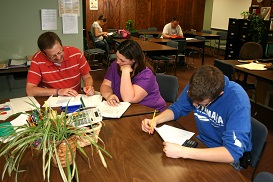 The Academic Success Center at Southwest Wisconsin Technical College is committed to excellence in education. In support of the college-wide assessment plan, instructors challenge and assist all students to attain academic skills, personal enrichment, and commitment to lifelong learning.
In the ASC students have access to a variety of academic support services and courses. Instructors use innovative instructional methods and personal attention to assist students. The ASC contains the following two fully equipped service areas to help our students:
The ASC operates on a "walk-in" basis and can be used by anyone carrying at least one credit at Southwest Tech. Some students are scheduled in the Academic Success Center for classes.
Academic Success Center Hours
Summer Hours
Monday - Thursday, 7:30am - 12:00pm
Spring and Fall Semester Hours
When school is in session the hours for this semester are:
Monday - Thursday, 7:30am - 4:30pm
Friday, 7:30am - 3:00pm
Individualized tutoring may be obtained by walking into the ASC and asking an instructor for assistance. Students complete registration forms on the first visit. Each time a student visits, they sign in and sign out on a registration computer.
Students may schedule themselves for instruction at convenient times for assistance with course work or may walk in any time for quiet study. For longer periods of assistance (for example, proofreading and long projects), appointments are recommended but not required.
Small group instruction is also available in the ASC. The center can be a place to meet with a study group where an instructor is available to answer questions.
Computer-aided instruction is an option for students who desire to enroll in review courses to prepare for more advanced program courses.
The ASC staff is available at the request of program instructors to deliver topic-specific review sessions. Students may take tests in the ASC at the request of program instructors.
The activities of the Academic Success Center are governed by the following purposes:
Support students in program courses to enhance retention.
Prepare students to enter programs and courses to increase enrollment.
Assist students to increase academic skills for personal satisfaction and/or to attain a high school credential.