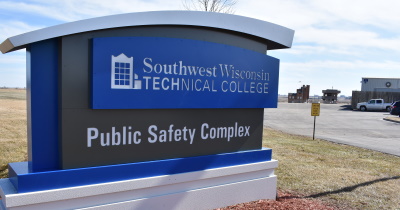 Completed in 2012 after 5 years of planning and construction, the Southwest Tech Public Safety Complex (PSC) has become the area's best resource for public safety professionals as well as the general public interested in wellness, safety, defensive, and professional career preparation training. Hundreds of hours were spent working with experts and end users to develop a training center that would fit the needs of first responders as well as citizens interested learning special skills at a safe environment with certified instructors.
The PSC is home to the College's Criminal Justice Studies, Fire, EMS, and Electrical Power Distribution programs. Expanding beyond program students, the College offers police, fire, and EMS continuing education as well as a multitude of classes in those topic areas geared towards the general public. The shooting range is used by many local groups and provides a safe and secure area to accommodate classes in hunter safety and concealed carry.
Now that the facility is open and available, we are here to remind everyone of Southwest Wisconsin that this is your facility, and classes are being made available to you and your business or organization. A wide variety of opportunities await you at the Public Safety Complex. Our staff will be happy to help you identify and customize the ideal experience for you and/or your business or organization.
Please feel free to contact our staff with questions on how we can custom-tailor a course or lesson to meet your needs. If you have specific ideas for events, our knowledgeable staff will be eager to work with you to build your package. Remember, this is the PUBLIC'S safety complex!