Learn skills: lab equipment use, lab analysis, food quality reporting, food safety, testing standards, scientific principles.
Be part of a lab team: perform tests and experiments, document results, and enjoy plenty of variety in your work day.
Work in high-demand food processing and agriculture industries.
TAA eligible populations and Veterans are encouraged to participate.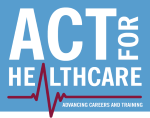 This ACT program is 100% funded with a TAACCCT Round IV $19.9 million grant awarded by the U.S. Department of Labor's Employment and Training Administration. This is an equal opportunity program; individuals with disabilities may request auxiliary aids and services by calling 711 or 800.947.6644 Voice/TTY. The product was created by the grantee and does not necessarily reflect the official position of the U.S. Department of Labor. The Department of Labor makes no guarantees, warranties or assurances of any kind, express or implied, with respect to such information, including any information on linked sites and including, but not limited to, accuracy of the information or its completeness, timeliness, usefulness, adequacy, continued availability, or ownership. Southwest Tech does not discriminate on the basis of race, color, national origin, sex, disability, or age in its programs and activities. The Equal Opportunity/Affirmative Action Officer has been designated to handle inquiries regarding non-discrimination policies. Call 800-362-3322, Ext. 2315 (TDD: 608-822-2072) or write Southwest Tech, 1800 Bronson Blvd., Fennimore, WI 53809.