Learn skills: lab equipment use, lab analysis, food quality reporting, food safety, testing standards, scientific principles.
Be part of a lab team: perform tests and experiments, document results, and enjoy plenty of variety in your work day.
Work in high-demand food processing and agriculture industries.
TAA eligible populations and Veterans are encouraged to participate.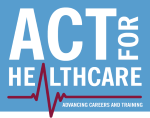 The ACT program is funded through a TAACCCT Round IV, $19.9 million grant that was awarded by the Employment and Training Administration of the U.S. Department of Labor. This is an equal opportunity program, so auxiliary aids and services are available upon request to individuals with disabilities.